Let's take a stroll around Yanaka-Sendagi!

Yanaka-Sendagi
Course
From Honkomagome to Negishi, this area has many faces; a quiet residential area and shopping streets with many people, which evokes nostalgia. In the Edo period, there was an entrance to Edo City through the Nakasendo Highway. Later, in the Meiji period, great writers including MORI Ogai and NATSUME Soseki or artists including OKAKURA Tenshin and ASAKURA Fumio lived in this area neighboring to the University of Tokyo and Tokyo Fine Arts School (current Tokyo University of the Arts).
Now, we will introduce not only the sites of properties like feudal lord's residences and temples in the Edo period, but also the tour round to take a glimpse into a life of cultured person in the Meiji period.
Let's take a stroll around Yanaka-Sendagi
Edo City had been developed into megacity around the castle of TOKUGAWA Shoguns. Since the TOKUGAWA Shogunate was always short of land owing to a growth of population, it extended the territory of "Edo" by changing the location of lands for temples and feudal lords after great fires or earthquakes. The area in the north of Edo Castle including Honkomagome, Sendagi, Yanaka, Nishinippori and Negishi, where connecting inside and outside of Edo City, had various faces.
The area from current Komagome Station to the former House of MORI Ogai (Site of MORI Ogai: Historic Place of Tokyo) had developed along Nikko Onarimichi Street (current Hongo Street) branching from Nakasendo Highway. The lands for samurai households were located along Nakasendo Highway to the outskirt of the Edo City. Going to the north from "Kaneyasu" (a famous shop from the Edo Period which was located on the border of Edo City and still running business at the crossing of Hongo Sanchome) via the main residence of MAEDA Family and the second residence of Mito TOKUGAWA Family (current the University of Tokyo), from there on were rural areas and lands for temples as well as feudal lord's residences, such as the suburban residence of YANAGISAWA Family (National Special Place of Scenic Beauty:Rikugi-en Gardens). This area is situated on the east edge of Musashino Plateau which has been eroded by Yato-gawa River. The former house of MORI Ogai stands here has been called 'Kanchoro', because it was possible to overlook Tokyo Bay behind Hama-rikyu Gardens from this house.
Going downhill Dango-zaka from former House of MORI Ogai, and going uphill "Yuyake Dandan" from Yanaka Ginza, this route arrive on a narrow plateau overlooking the Tokyo lowland. In the Edo Period, there were temples that commanded a fine view, such as Kan'ei-ji Temple and Tenno-ji Temple. The former Residence of ASAKURA Fumio also stands on the same plateau with view. Downing the slope from former Residence of ASAKURA or Yanaka Cemetery along Goten-zaka, it arrives to the lowland where were a rural area in the Edo Period. This tour will finish at the historic site on the lowland such as Shiki-an. Let's enjoy another charm of Tokyo taking a stroll around hilly area of Tokyo.
Walking Course Highlights / Bunkyo city
Walking Course Highlights / Taito city, Arakawa city
Bunkyo city Course
(Let's take a stroll around Yanaka-Sendagi!)
Rikugi-en Gardens
Rikugi-en Gardens had been a suburban residence of YANAGISAWA Yoshiyasu, a Roju (member of shogun's council of elders) of fifth Shogun TOKUGAWA Tsunayoshi, built in 1702 on the estate granted by Tsunayoshi. Although Yoshiyasu was busy with official duties and could not leave Edo Castle, he was so enthusiastic about creating this garden and he made his followers bring design drawings for him and gave instructions.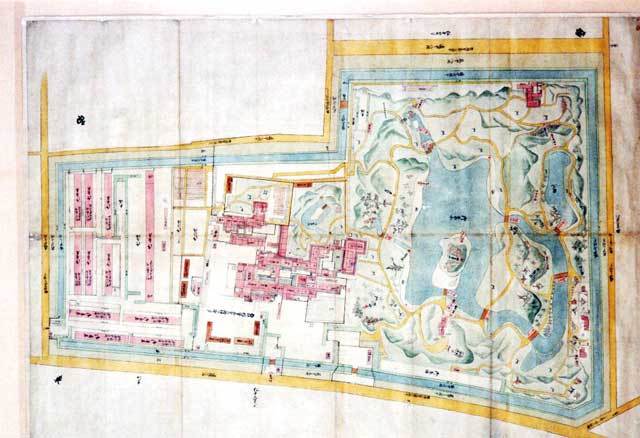 The garden has paths around artificial hills and a pond. In such a garden, we can enjoy the view strolling the pass around the pond with a floating island.
Yoshiyasu had a profound knowledge of classical literature, and it was reflected in the design of Rikugi-en Gardens. The views in "Man'yo-shu" (the oldest existing collection of tanka poetry, compiled in the Nara period) or "Kokin-Waka-shu" (an early imperial anthology of the tanka poetry, dating from the Heian period) were selected to represent as Eighty-eight Views in Rinkugi-en Gardens.
Among Eighty-eight Views, these gardens were modeled after places of scenic beauty in Kishu Province (current Wakayama prefecture) appeared in tanka poems, so people enjoyed such beautiful and poetic views without leaving Edo city.
After Meiji Restoration, the garden became the property of IWASAKI Yataro. In 1938, the garden was donated to Tokyo City and opened to the public.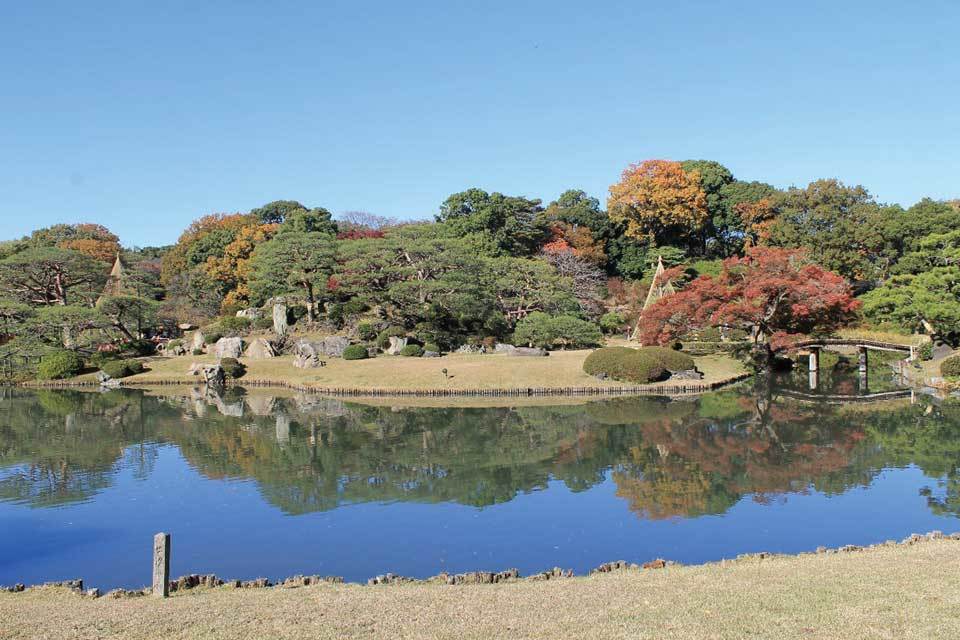 In this large garden, various flowers blooming from season to season gladden your eyes. Although the weeping cherry tree was newly planted in 1955, this tree became a main view in spring. There are many attractions such as azalea deeply associated with Komagome Somei village hydrangea and autumn tints.
Opening Information
Open :

All year (Except on the year's end and beginning)
Times :

9:00~17:00(Entry by 16:30)
Fee :

General ¥300, over 65 years old ¥150
Bunkyo city Course
(Let's take a stroll around Yanaka-Sendagi!)
Yogen-ji Temple
Grave of YASUI Sokken
Historic Site of Tokyo
Designated on March 3 1956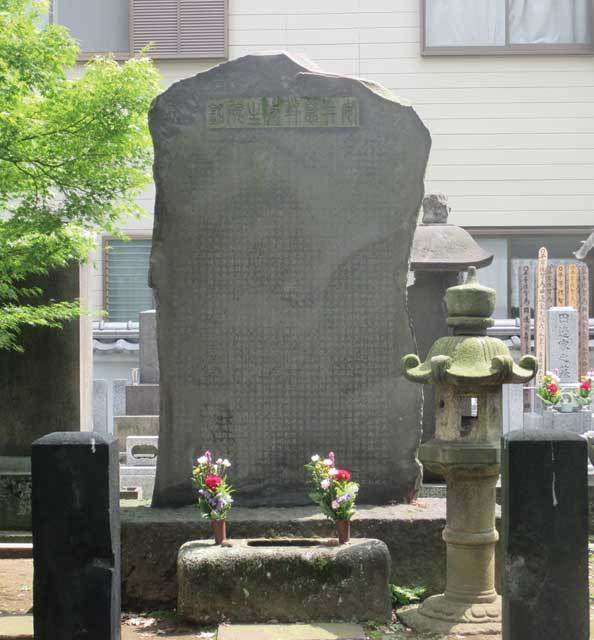 YASUI Sokken was a Confucian scholar in the late Edo Period, who established a foundation of the study of modern Chinese classics. He was known also to foster many disciples, including TANI Tateki and MUTSU Munemitsu who had a distinguished career from the end of the Edo period to the early Meiji period.
Sokken was born in a family of feudal retainer of Hyuga Obi Domain (current Miyazaki prefecture). After studying in Osaka and Edo, he taught at Shintoku-do School (a domain school) and was engaged in administration of the domain. His birthplace in Miyazaki prefecture is designated for a National Historic Site.
In 1839, he opened a private educational institution Sankeijuku (Three Orientations School) in Kojimachi Nibancho, Edo City. The name of this school associated with the school's statement of foundation: you'd better find your own orientation for a day in the morning, for a year on the New Year's Day and for a life in adolescence. In 1862, he was appointed as an official Confucian teacher at the Shoheiko school.
He died at the age of 77 in 1876. Epigraph in seal script on a tomb stone, stating "Epigraph for Dr. YASUI Sokken" is a work of Ying Paoshih, a provincial judge (Judge in Chief) in the Jiangsu Province of Qing China, and the main text was compiled by Sokken's disciple KAWADA Oko, a draft on the stone was made by a calligrapher KUSAKABE Meikaku,and carved by KO Gunkaku, a mason from Yanaka.
His wife, Sayo is known as the model of "Mrs. YASUI", a novel by MORI Ogai.
Grave of NISHIMURA Shigeki
Historic Site of Tokyo
Landmarked on May 16 1934
Designated for Historic Site on April 1 1952
Designated for Historic Place on March 28 1955
Changed category on April 28 1964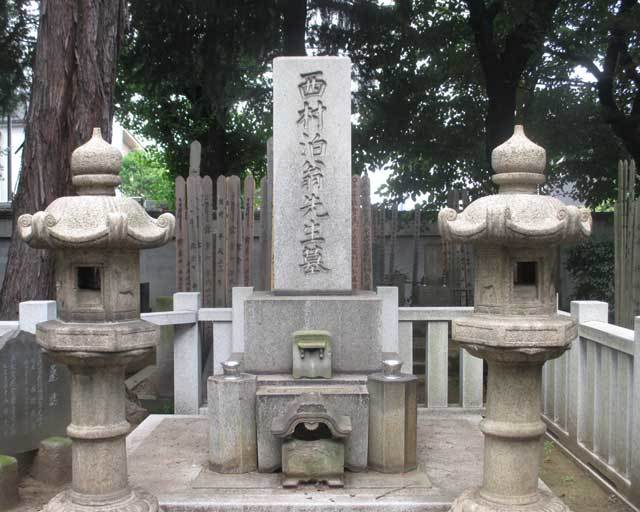 NISHIMURA Shigeki (1828-1902) was a thinker from the late Edo period to the Meiji period. He was born in a family of Sano Domain's lord, which was a branch of Shimousa Sakura Domain (current Chiba prefecture). He learned Confucianism from YASUI Sokken at Seitoku-shoin school, a hanko (domain school) in Sakura Domain, as well as European studies and artillery from SAKUMA Shozan.
He joined the movements based on the philosophy of Enlightenment in the Meiji period, and launched an academic group Meirokusha with MORI Arinori and FUKUZAWA Yukichi. He made great efforts as an official in the Ministry of Education during the Meiji period, for compilation of school textbooks and establishment of educational system. Since 1879, he directed compilation works of the "Encyclopedia of Ancient Matters".
Furthermore, he founded the Tokyo Morality School, while he wrote works including "Discourse on Japanese Morality". He served as a court councilor and a member of the House of Peers in his later years.
He died at the age of 75 on August 18, 1902.
Opening Information
Open :

All year
Times :

9:00~17:00
Fee :

Free
3
Gardens of Former Residence of YASUDA Kusuo
Bunkyo city Course
(Let's take a stroll around Yanaka-Sendagi!)
Gardens of Former Residence of YASUDA Kusuo
FUJITA Yoshisaburo, a founder of the Toshima-en, built a two-story wooden house at the edge of the Hongo plateau in 1919. In 1923, it was sold to YASUDA Zenshiro, a director of the Hozen Bank and a son-inlaw of YASUDA Zenjiro I, whose house was devastated by the Great Kanto Earthquake. Later, his first-born son, YASUDA Kusuo, inherited the house and lived there until his death in 1995. After his death, the building and most of the site area were donated to the Japan National Trust for Cultural and Natural Conservation that work to utilize the building and open it to the public.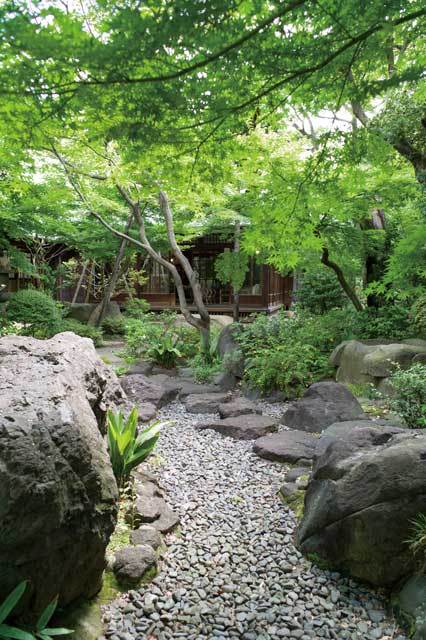 The site is extended to the east and west and meets at right angles to the cliff line of the Hongo plateau. The main entrance and parlor are located in the east wing, a guest room named the "Zangetsu-no-ma" in the main building, and a living space including a kitchen in the west wing. A guest room on the second floor of the main building is designed in the Shoin style and is the most formal of the rooms in the residence.
The garden is configured with four elements: a front garden located between the main gate and the entrance of the house; a main garden facing the solarium and the Zangetsu-no-ma; a courtyard that fronts the north side of the Zangetsu-no-ma, and an interior garden enclosed in the back yard, a Buddhist altar room and the west wing of the residence that were dismantled in 1997.
The main garden is designed in a dry-landscape style, and is intended to be viewed while sitting in the solarium, Zangetsu-no-ma, or the living room. Rocks symbolizing a waterfall are placed at the southwest corner of the garden as the highest point from which sand and gravel suggesting flowing water descend towards the east. Following the steppingstones from each room, one can stroll to the main garden where was once laid with lawn grass.
The rocks representing the waterfall are the main feature of the garden and are arranged with pointed natural stones called "Taki-soeishi"and straight stones called "Mizuochi-ishi." The top of the waterfall is oriented to be best viewed from the Nekoma shoji of the living room rather than from the front of the building. By orienting the top of the waterfall facing the northwest, it also created a visual effect of making the flowing dry riverbed appear larger.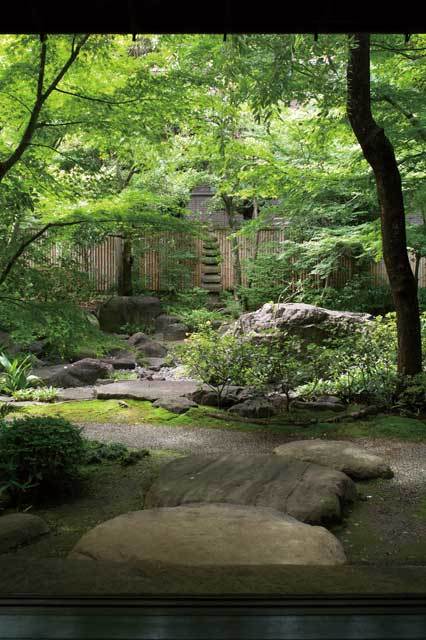 With large sized revetment rocks on both sides, lines of sand suggesting stream of water flows around an ornamental stone placed in the center of the garden. A pagoda and a parallel arrangement of crosses stones are viewed across from the Zangetsu-no-ma is an important highlight. On the other hand, from the solarium, you can see this sand pool is designed as the ripping pond with the ornamental stone in the middle, and surrounded by hexagonal stone garden lanterns and oak trees planted by FUJITA Yoshisaburo. This garden allows 7 the visitor to enjoy differing views from each room.
This magnificent garden, using the geographical characteristics particular to the edge of the Hongo plateau, is a unique example to be found among the luxurious residences of the Yamanote area in Tokyo dating from the Taisho and early Showa periods that comes down to us today in nearly its original condition.
The garden path will be open to the public on Saturdays from late November to early December. For details, please contact the Japan National Trust.
Opening Information
Open :

Wednesday, Saturday (Open every day during the event period)
Times :

10:30~16:00 (Enter by15:00)
Fee :

¥500
4
MORI Ogai Memorial Museum Site of MORI Ogai
Bunkyo city Course
(Let's take a stroll around Yanaka-Sendagi!)
MORI Ogai Memorial Museum Site of MORI Ogai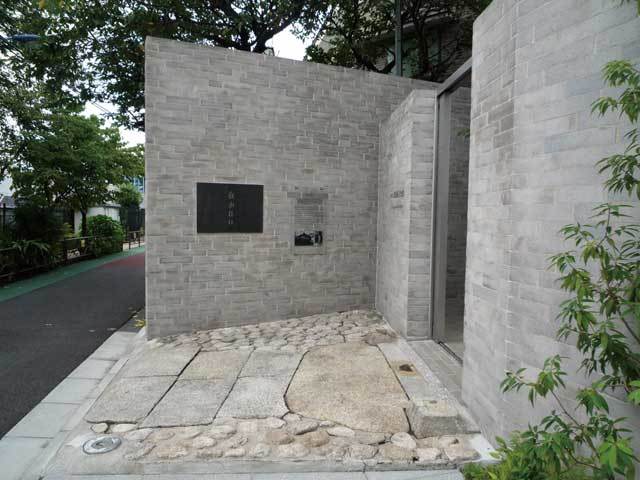 On January 1892, MORI Ogai moved to this place when he worked as a medical officer of Imperial Japanese Army, and established him as a writer by publishing books such as collection of translated poems "Omokage" (co-translated with KOGANEI Kimiko). His father Shizuo who closed his clinic, bought the house here to live with Ogai. Later, the site was extended and a second floor was added to the building. Ogai named this house "Kanchoro" because white sails of Shinagawa offing was in sight behind the trees of Hama-rikyu Gardens from the upper floor.
Kanchoro of 1056 square meters was connected with several rooms by complex corridors. The main gate faced Yabushita-dori Street, and at the top of Dango-zaka slope, there was the back gate which led on long stone pavement to back-entrance. This house seems to have been full of natural feeling with the garden that occupied half of the site and castanopsis planted on the west boundary.
Kanchoro had been the base of writing work of MORI Ogai. He edited the literary magazine "Mesamashi-gusa" which was first issued in1896, and meetings for jointly reviewing of "Sannin Jogo" with KODA Rohan and SAITO Ryokuu, and "Unchugo" with AEBA Koson, OZAKI Koyo and MORITA Shiken were held there. Moreover, Kanchoro poetry party had been held regularly from 1907 and many Waka poets such as YOSANO Tekkan, ITO Sachio, SASAKI Nobutsuna and SAITO Mokichi visited the residence.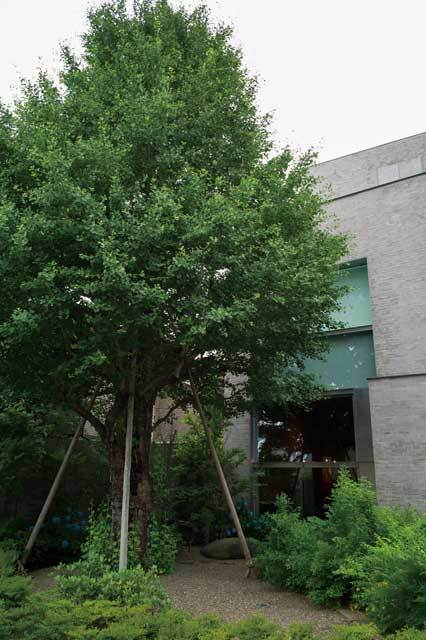 After Ogai's death in 1922, his family lived here for a while. The house was rented out afterwards, and in 1937 most part of main building was destroyed by fire. The remains such as a part of foundation stones of gatepost and stone pavement alongside the Yabushita-dori Street, large ginkgo tree planted at the entrance and a big stone where KODA Rohan, SAITO Ryokuu and Ogai seated for taking photo (Commonly known as "Stone of Sannin Jogo"), reminds us of the past days of the residence.
In 1949 the Preparatory Committee for Ogai Memorial Museum was started by TAKAHASHI Seiichiro (the first director of Tokyo National Museum) and Bunkyo City bought the site. In 1950 this site was landmarked as a Historic Site named "Site of MORI Ogai" based on "the survey for sites of modern cultured persons" conducted by Tokyo Metropolitan board of Education (it was designated for Historic Site after the revision of Tokyo Metropolitan Ordinance for the Protection of Cultural Properties).
In 1962 Ogai Memorial Hongo Library was opened and in 2012 it was renovated and reopened as MORI Ogai Memorial Museum. We can remember MORI Ogai's great achievement through his manuscripts, handwritten letters and belongings exhibited at the museum.
MORI Ogai Memorial Museum
Open :

10:00~18:00 (Admission ends at 17:30)
Close :

The fourth Tuesday of each month (if a holiday falls on them, Wednesday), New Year holiday (Dec 29 - Jan 3), exhibits changing period and fumigation period
Fee :

Adult : 300 yen, for groups (20 persons or more) : 240 yen, under Jr high school students and people who are handicapped or under welfare assistance, and their attendant Free Admission fees vary depending on the exhibition
Column (MORI Ogai and anthropologists)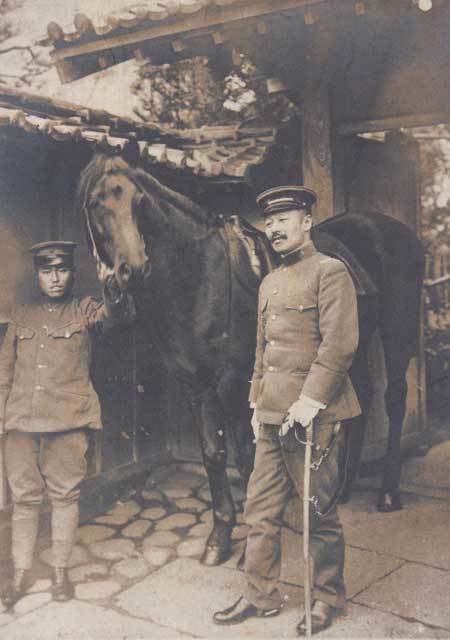 MORI Ogai succeeded as a Japanese Army Surgeon general officer, a translator, a novelist and a poet. In his later career he was appointed director and head of library of the Imperial Museum (current Tokyo National Museum). Every autumn he had visited Nara to present the airing out and inspection of Shoso-in Repository treasures. In 1919, he took office as first director of the Imperial Art Academy (current Japan Art Academy) and made friends with historians and artists. Besides, do you know that MORI Ogai had close relationships with anthropologists?
One is KOGANEI Yoshikiyo, professor of the Tokyo Imperial University Medical School, Ogai's senior. In 1888, KOGANEI got remarried to Ogai's younger sister Kimiko and became his younger brother-in-law. Ogai, who was the head of family in those days, sent a telegram from Berlin saying "Le consentement sans reserve" (consent without any conditions) for their marriage.
KOGANEI Kimiko who had worked as a translator and a Waka poet, accompanied her husband Yoshikiyo to survey for Hokkaido Ainu and published an article entitled "Shimameguri"on the literary Magazine "Shigarami-zoshi". This travelogue was reprinted on essay collection of KOGANEI Yoshikiyo "Anthropology Study".
MORI Ogai visited KOGANEI Family's house at Komagome Katamachi every New Year's Day, and brought his book which had been just issued. During the Russo-Japanese War which started in 1904, Ogai presented Yoshikiyo human bones excavated from a tomb mound in Liaodong Peninsula where he stationed. In this way he had been supporting Yoshikiyo's study as much as possible.
Citing the results of his Ainu study based on measurements of such excavated human bones, he argued that Ainu has Column MORI Ogai with his favorite horse at the gate of Kanchoro 10 Tokyo Heritage Week its origin in prehistoric Japanese man. This is an objection as an anatomist to the Koro-pok-guru theory insisted by TSUBOI Shogoro, anthropologist and a professor of the science department of the Tokyo Imperial University. He is very another anthropologist opponent of KOGANEI Yoshikiyo that MORI Ogai had a relationship.
It is interesting that MORI Ogai met TSUBOI Shogoro not at Kanchoro or Tokyo Imperial University, but at Mitsukoshi department store. In 1905, Mitsukoshi announced "declaration of the Department Store" and organized Ryuko-kai (society for the latest trend study) where discussion was held on each subject on products. They also held design competitons. These activities were based on the concept of "associate with academy and mass culture" by HIBI Osuke, managing director of Mitsukoshi department store. Various lines of merchandise were produced based on the idea of Ryuko-kai, and the trends of Mitsukoshi had created. MORI Ogai participated in Ryuko-kai since 1910, and published a novel "Ryuko" (latest trend) in PR magazine "Mitsukoshi".
TSUBOI Shogoro also participated in Ryuko-kai and the society for children's goods study. He had invented hit products such as "Tondekoi" by improving a boomerang of Aborigines in Australia, and "Zubonbo" by recreating a toy in the Edo Period.
In Ogai's Dairy, he wrote about a report of TSUBOI Shogoro's talk of his trip in Europe at Ryuko-kai. From the relationship between MORI Ogai and these anthropologists, we can see the strong inguiring mind of the intellectuals in the Meiji and the Taisho periods.
Opening Information
Open :

All year (Except every fourth Tuesdays, the year's end and beginning. The museum might have temporary closures due to the exhibition changes and fumigation period)
Times :

10:00~18:00
Fee :

Free (Additional fees are required for exhibitions)
1
OKAKURA Tenshin Memorial Park Site of OKAKURA Tenshin's
Taito city,Arakawa Course
(Let's take a stroll around Yanaka-Sendagi!)
OKAKURA Tenshin Memorial Park Site of OKAKURA Tenshin's Residence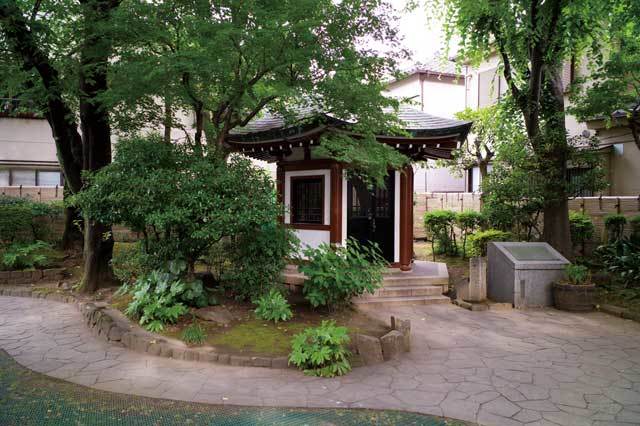 OKAKURA Tenshin established the research institute of Nihon Bijutsuin (Japan Art Institute) on October 15, 1898 in this place named OKAKURA Tenshin Memorial Park today. The Nihon Bijutsuin was a society to produce a new style of Japanese painting under the leadership of Okakura Tenshin, and a group of artists followed Okakura's idea and devoted themselves to seeking new methods of expression. HASHIMOTO Gaho, YOKOYAMA Taikan, HISHIDA Shunso and ROKKAKU Shisui participated in this society.
The buildings of research institution were constructed with the donation of benefactors such as William Sturgis BIGELOW, a collector of Japanese art. Two buildings of two-storied, tile-roofed wooden structure had stood face to face. In the north building, there were an office, a craft laboratory and a meeting room. The south building was for painting laboratory. Nine annex buildings were built on the premise as atelier and works of painting, sculpture, lacquer ware, design, caster were produced and studied.
When the research institution building was opened on October 15 in 1898, the group held a competitive exhibition together with the Japan Painting Association.
From opening, Nihon Bijutsuin energetically created new style of art works, held exhibitions and issued journal "Japanese Art". However, activities of Nihon Bijutsuin gradually faced financial difficulties, and also suspended when OKAKURA Tenshin went to the United States to become the head of the Chinese and Japanese art division of the Museum of Fine Arts, Boston in 1905. When Nihon Bijutsuin sold off its site at 3000 yen and moved to Izura, Ibaraki prefecture in 1906, Nihon Bijutsuin at Yanaka ended.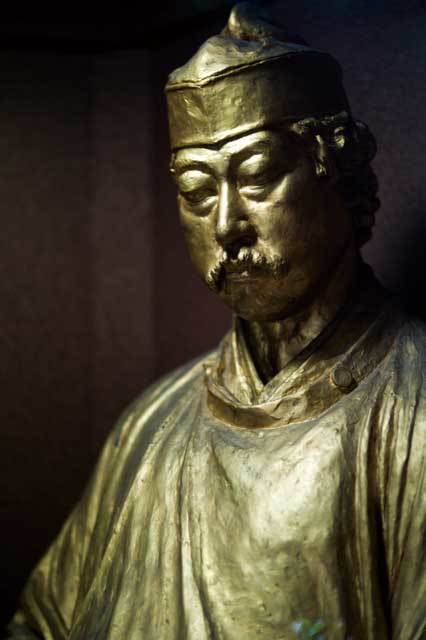 The present OKAKURA Tenshin Memorial Park was opened by Taito City in 1967. Inside of the memorial hall which imitate the "Rokkaku-do" (lit. hexagonal hall) of Izura, the bust of OKAKURA Tenshin was enshrined. This bust was casted from the mold made by HIRAKUSHI Denchu in 1931 which is placed in the Tokyo University of the Arts.
This place has handed down the spirit of painters who grappled with the modernization of Japanese Art in the Meiji period.
Column (What's Yanaka Hachiken'ya (Eight Houses at Yanaka))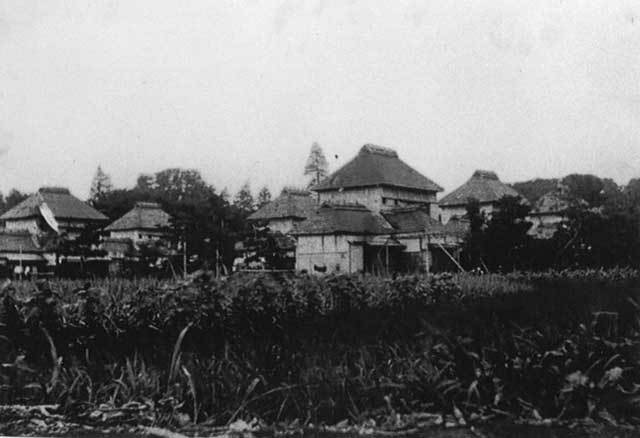 In the 1890's, at the time Nihon Bijutsuin (Japan Art Institute) was established, Yanaka was a suburb of Tokyo with an abundance of nature. On October 1898, strange eight houses which have the same form and size of two storied with a thatched roof appeared at sudden opposite to the Nihon Bijutsuin. The main members of Nihon Bijutsuin, YOKOYAMA Taikan, SHIMOMURA Kanzan, HISHIDA Shunso, SAIGO Kogetsu, TERASAKI Kogyo, KOBORI Tomoto, OKABE Kakuya, KENMOCHI Chushiro and their families lived in each house which were called "Yanaka Hachiken'ya" (eight houses at Yanaka).
Although they lived in dire poverty, there were plenty of pleasant episodes such as YOKOYAMA Taikan knocked on the door of SHIMOMURA Kanzan's house by mistake at midnight, so YOKOYAMA was scolded by SHIMOMURA's wife. Their comedic life at the eight houses ended when they moved to Izura, Ibaraki prefecture.
Opening Information
Open :

All year
Times :

All day
Fee :

Free
2
ASAKURA Museum of Sculpture
Taito city, Arakawa city Course
(Let's take a stroll around Yanaka-Sendagi!)
ASAKURA Museum of Sculpture
Gardens of ASAKURA Fumio
National Place of Scenic Beauty
Designated on March 28 2008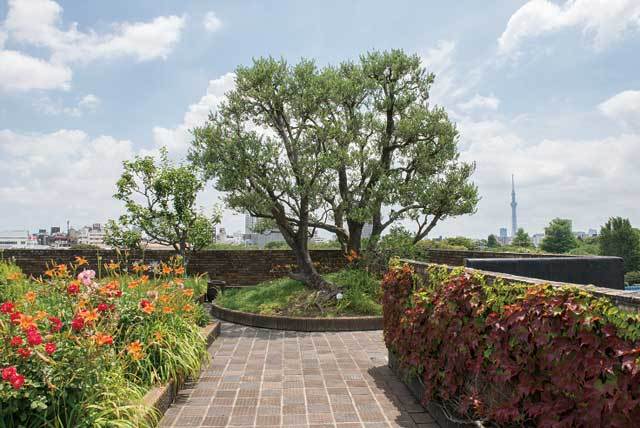 ASAKURA Fumio regarded art as "a symbolic from of nature and life". Reflecting this thought, he valued a sense of unity between the garden and building that is reflected in the design of his own residence.
A studio and residence were built on a narrow building site. A small patio, running 10 meters from north to south and 14 meters from east to west, was placed in the middle. The watery surface of a large pond placed on center occupied most of the garden. Moreover, huge stones placed here and there are particularly effective in the small space of the patio.
In order to enjoy various views of the garden, several distinct levels were created to help move the eye up and down the corridor of the residence that faces the garden. Because it is a courtyard, one's attention is not drawn outside and it allows the viewer to take time in appreciating the garden in a relaxed state.
The rooftop garden of the concrete-constructed studio planted loquat and olive trees and there used to be a greenhouse in the middle. It was a novel example of a rooftop garden in the early Showa period. In this garden ASAKURA grew vegetables together with his students who were studying sculpture and modeling at his private school. This was designed to help students develop sensitivity and an ability to commune with nature that ASAKURA believe was necessary as an artist.
Residence, ASAKURA Museum of Sculpture
National Registered Tangible Cultural Property (buildings)
Registered on October 12 2001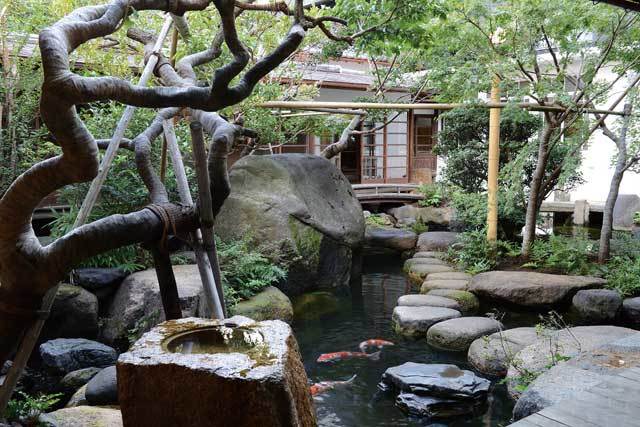 The U-shaped residential building surrounding the patio is built in the Sukiya style with a gable roof and base tiles. The Japanese style patio is lush with water and is decorated with ornamental stones and full of seasonal flowers and trees.
A living room for the family is located on the north, while a corridor along the south connects the eastern entrance adjacent to the former studio and the drawing room on the west corner adjacent to the main studio. This layout of rooms creates a complex circuit within the building.
As the eaves on the south side of the living room are steeply pitched, the sight lines are interrupted, enabling visitors to enjoy different views from each room. On the south side one can enjoy the changing aspects as they pass through the corridor leading from the entrance to the drawing room.
Studio, ASAKURA Museum of Sculpture
National Registered Tangible Property (buildings)
Registered on October 12 2001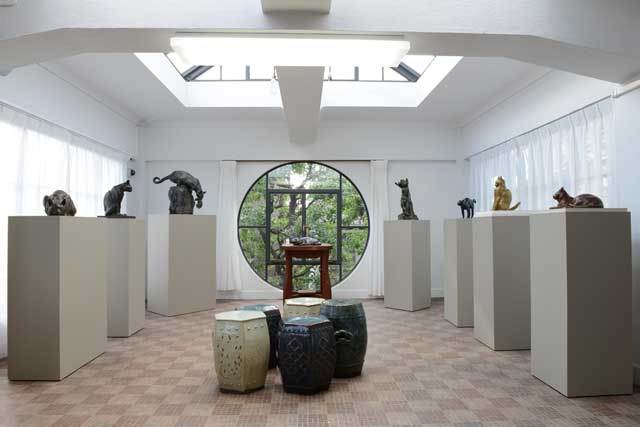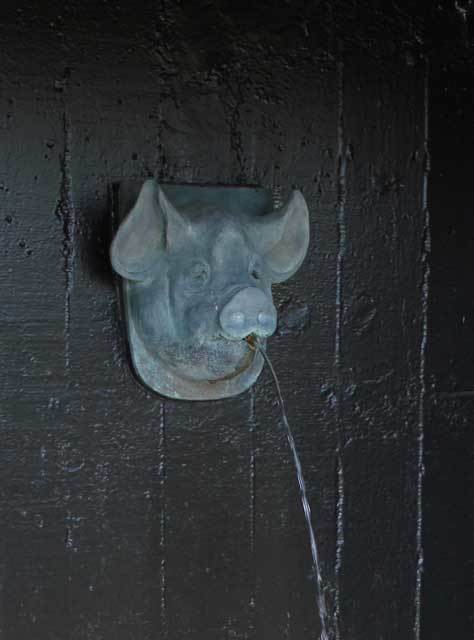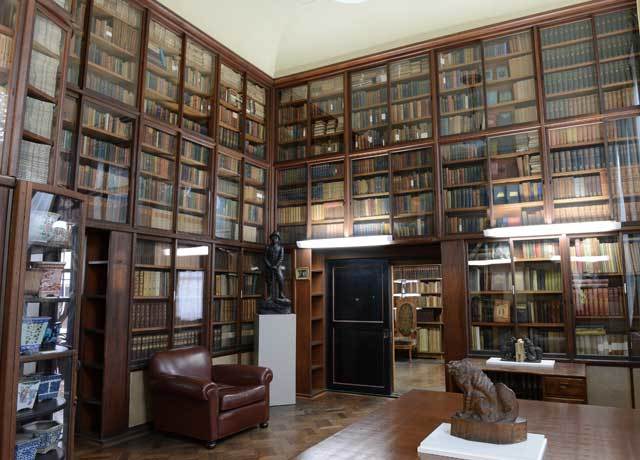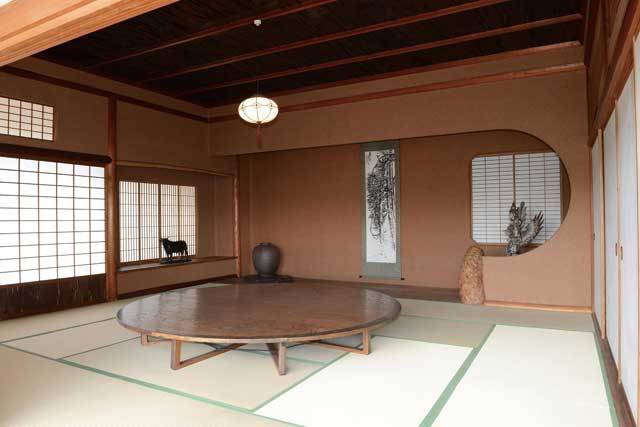 ASAKURA Fumio founded the ASAKURA Sculpture School in 1927 to help foster young sculptors. The studio, built in 1935, served as both his personal studio and classroom until he died in 1964. He also installed a vegetable garden on the roof and used it as a place for training his students in daily gardening.
ASAKURA designed this studio by himself, creating a 304 square meters building three stories in height and fabricated out steel-reinforced concrete. The building was powerfully designed with a curved black exteriar wall, and this defining characteristic can be seen at the entrance hall that stretches out in a semicircular form.
A male statue entitled "Cannonball" stares down towards the entrance from the rooftop garden. When taking the stairs down from the vegetable garden to the south terrace on the second floor, there is a wall fountain with a pig's face at the wash basin. A glasshouse behind the wash basin is called the "Orchid Room" and is now used as a gallery space for exhibiting ASAKURA's sculptures of cats depicted in various poses.
ASAKURA's works, including "Grave Keeper" and "OKUMA Shigenobu," are displayed in the studio. The ceiling of the studio is approximately 8.5 meters in height with toplights, while the walls themselves are covered in floss silk. Furthermore, the latest technology of the time was installed, including a motor-elevated workbench that lifted from an underground pit and a hydronic heating system.
The studio is also attached a resting room, a piano room, a glasshouse, and a study room. Floorto-ceiling bookshelves cover three walls of the study room that are filled with books and collections. A drawing room next to the study room is a Japanese-style single story wooden structure attached to the western edge of the residential building.
The interior decoration of the drawing room is done in the semi-Western style, applying the Sukiya-style to the wall and ceiling, combined with the Western-style parquet floor and a semicircular sofa by the window. In addition, Japanese motifs were applied to the transom windows of the piano room facing the patio. These design treatments represent a conscious shift from Japanese style to Western style.
The Sukiya style is also applied to the sitting room on the third floor and around the north staircase. The special characteristics of ASAKURA's design can be especially seen in the Asahi-no-ma and its anteroom where crushed agate was applied to the wall. Spatial design is well considered at the east windows on the third floor overlooking the whole patio and conveying a sense of unity between the house and garden.
Former Studio, ASAKURA Museum of Sculpture
National Registered Tangible Property (buildings)
Registered on October 12 2001
The former studio, built in 1924, sits at the east edge of the site and is the oldest building at the ASAKURA Museum of Sculpture (not open to the public). This wooden building is approximately 50 square meters with 3.9 meters high ceilings. A nude sculpture entitled "Sunbath" is put on the rooftop.
During the conservation project in 2013, traces of rails and a staircase leading to the basement were discovered under the floorboards. The rails were used to help move the sculpture and the staircase was likely used in order to check the effect of viewing the sculpture from below when it was placed on a high pedestal. Those unique devices shows ASAKURA's ingenuity.
Arbor, ASAKURA Museum of Sculpture
National Registered Tangible Property (buildings)
Registered on October 12 2001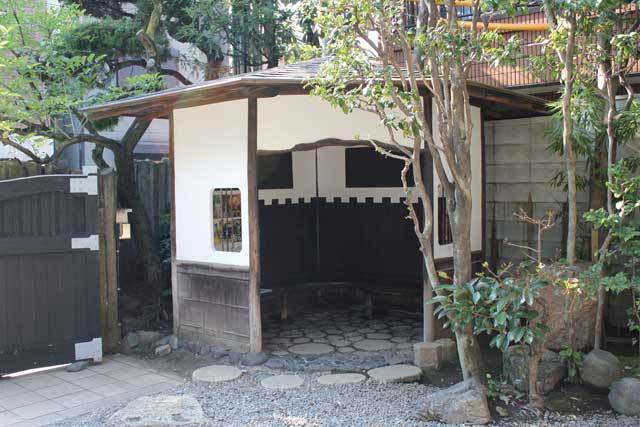 Upon entering the front gate facing Suwadai-dori Street, a wooden arbor is set on the left side facing the entrance of the studio. The pentagonshaped arbor is designed in the Sukiya style with a gently settled umbrellalike roof, and chairs are settled on either sides of the wall inside, like a teahouse waiting room.
Column (Who is ASAKURA Fumio?)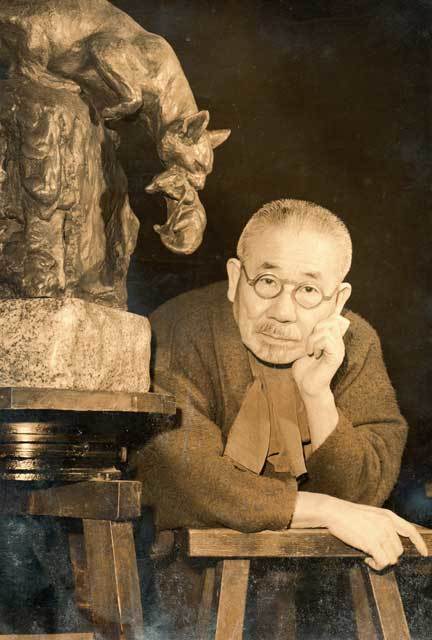 ASAKURA Fumio (1883-1964) was a successful sculptor from the Meiji to the Showa periods. He was born to the WATANABE Family, a headman of Kamiida Villege, current Ono City, Oita prefecture, and he was adopted by ASAKURA Tanehiko at the age of ten. He came to Tokyo in 1902 when he was nineteen, and graduated flom Tokyo Fine Arts School in 1907.
On graduating, ASAKURA built his house and a studio at Yanaka and opened a school of statuary. Many of his works are praised, such as "grave-keeper" which won the top prize at Ministry of Education Art Exhibition in 1910. He held the following important posts; the professor of Tokyo Fine Arts School, the judge of Ministry of Education Art Exhibition, member of the Imperial Fine Arts Academy and the director of the Japan Fine Arts Exhibition. In 1948 he received the Order of Culture.
Old and new studio, house, buildings and garden which still remain in this place were planed and directed by ASAKURA himself and completed in 1935. Although many of his works were lost due to the metal contribution during World War II, nowadays we can see the statue of OKUMA Shigenobu at Waseda University and the statue of OTA Dokan at Tokyo International Forum.
Yanaka is often associated with "cats". ASAKURA also loved cats, lived with them and made many works of them.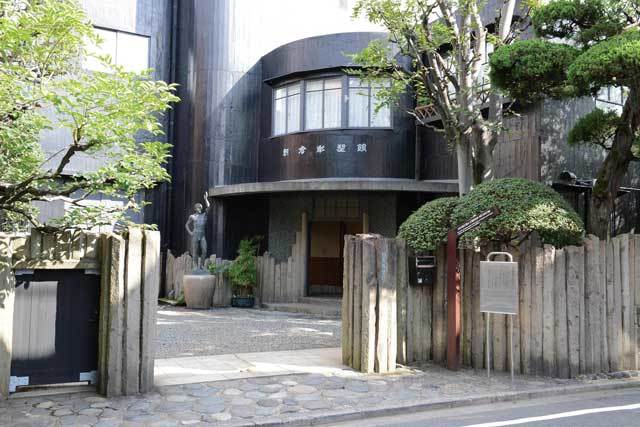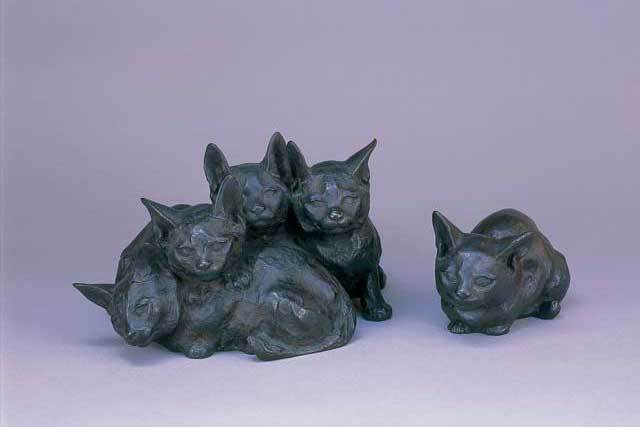 Opening Information
Open :

All year (Except Mondays and Thursdays (if a holiday falls on them, the following day), the year's end and beginning, the event of inventory)
Times :

9:30~16:30(Enter by 16:00)
Fee :

General ¥500, high school and younger students ¥250
3
Castanopsis of Enmei-in Temple
Taito city,Arakawa city Course
(Let's take a stroll around Yanaka-Sendagi!)
Castanopsis of Enmei-in Temple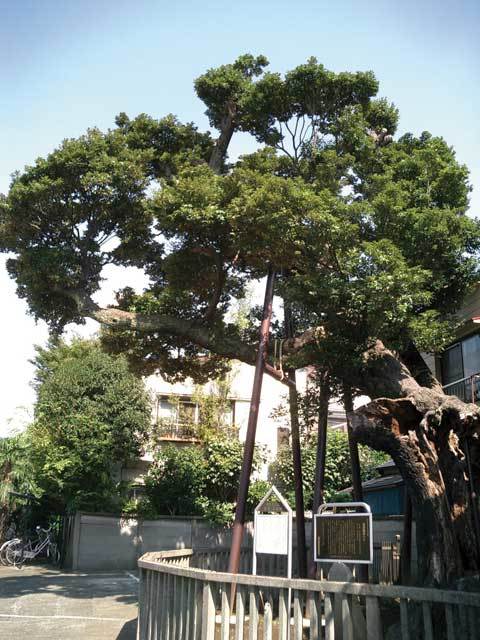 Going to the west from Nippori Station of JR Yamanote Line, there is Hoju-san Enmei-in Temple on the left side. It's a temple of Nichiren sect founded in 1648. According to one story, the mother of Yaoya Oshichi (greengrocer Oshichi: her story became the subject of joruri plays) prayed here and had a daughter, Oshichi.
Passing through the San-mon Gate, a large Castanopsis is planted on the right side. This is "Castanopsis of Enmei-in Temple"
Castanopsis is high evergreen tree which belongs to the fagaceae family. The fruit is edible without astringent taste.
It is said that "Castanopsis of Enmei-in Temple" is more than 600 years old. It used to be 16 meters in height before. Although south large branch fell down in 2002, the tree still keeps its vitality and branches to the south with supports.
In "Higurashi-no-Sato So-zu" (picture of Higurashi area) of "Edo Meisho Zue" (an illustrated guide of famous sites of Edo), a tree which is presumed to be this "Castanopsis of Enmei-in Temple" is depicted. It might be said that this tree has seen the transition of Nippori town since long ago.
Opening Information
Open :

All year
Times :

7:00~15:30
Fee :

Flee
4
Remains of Five-Story Pagoda of Tenno-ji Temple
Taito city,Arakawa city Course
(Let's take a stroll around Yanaka-Sendagi!)
Remains of Five-Story Pagoda of Tenno-ji Temple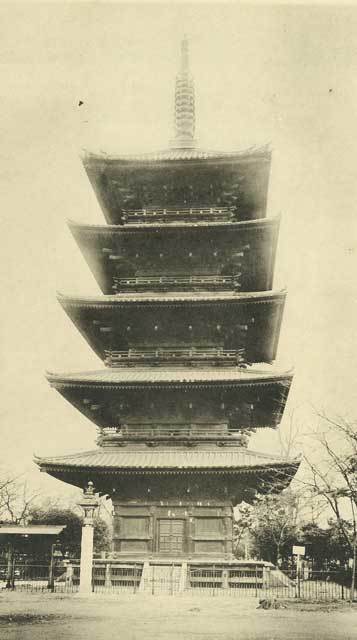 The first Five-Story Pagoda of Yanaka, known as a model of "Five-Story Pagoda" by KODA Rohan, had been in precinct of Gokokuzan Soncho-in Tenno-ji Temple of the Tendai sect (current Yanaka Cemetery). Tenno-ji Temple has long tradition. It was originally called Choyozan Kanno-ji Soncho-in Temple of the Nichiren sect founded by the connection between SEKI Kojiro Nagateru of Mt. Dokan and Nichiren, and later converted into a Tendai sect Temple by the shogunate's order in 1699. It was again renamed Gokoku-zan Tenno-ji Temple in 1833, as is currently called.
The first Five-Story Pagoda was built in 1644, and lost almost 130 years later in 1772 by the Great Fire of Meguro Gyonin-zaka. The pagoda which was rebuilt 19 years after the disaster, served as a landmark of Yanaka for a long time, and it had escaped disasters caused by earthquakes or air-raid of World War II. Unfortunately the pagoda was finally burned down in an arson attack on July 6, 1957.
The pagoda was entirely made of timber of Japanese zelkova materials and 34.18 meters in height, which was the highest among the Buddhist Pagodas in Kanto region at that time. An actual remaining measurement by architect OSHIMA Eishu in 1870 is reminiscent of the past.
All 49 foundation stones for pillars and a 90 square meters central foundation stone are made of granite. A gold-copper glass majestic stupa-shaped reliquary and a gold-copper sutra container were found under the foundation stone in the center, while gold-copper sutra container and others are found under the foundation stones at the four corners of the inner sanctuary and the outer sanctuary.
Opening Information
Open :

All year
Times :

All day
Fee :

Free
5
Shiki-an (Hermitage of MASAOKA Shiki)
Taito city, Arakawa city Course
(Let's take a stroll around Yanaka-Sendagi!)
Shiki-an (Hermitage of MASAOKA Shiki)
MASAOKA Shiki (1867-1902) was one of the greatest writers of the Meiji period. In a brief life of thirty five years, he left a great achievement in Modern literature. Born in current Matsuyama City, after he moved to Tokyo for studying, he began pursue literature. Since Shiki propagated his ideas on innovations to Haiku and Tanka poems, and supported a style of literary sketch, many writers were influenced by him. He was also a good essayist.
Shiki-an was the place where Shiki lived from 1894 to his last years with his family. Many writers including NATSUME Soseki who had been a friend from Preparatory School of the University of Tokyo visited this hermitage. Haiku magazine "Hototogisu" was published and his well-known essays like "One Drop of Ink", "Six-Feet Sickbed", and "Stray Notes While Lying on My Back" were written here. Shiki loved plants of his garden and depicted those scenes in his works.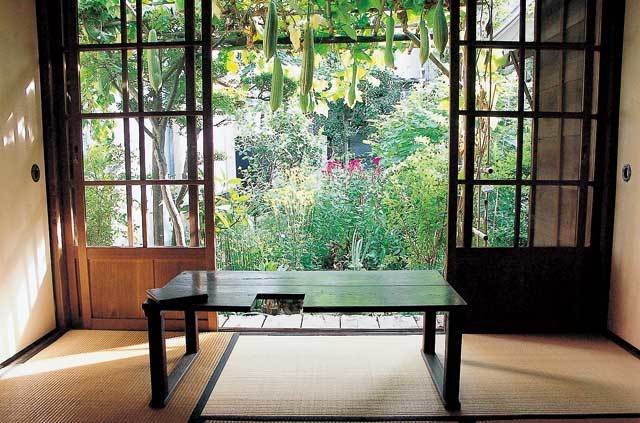 In 1945, the one-story structure was lost due to the fire caused by air raid, but rebuilt almost as it was in 1950 by SAMUKAWA Sokotsu and others.
Column (Who is ASAKURA Fumio?)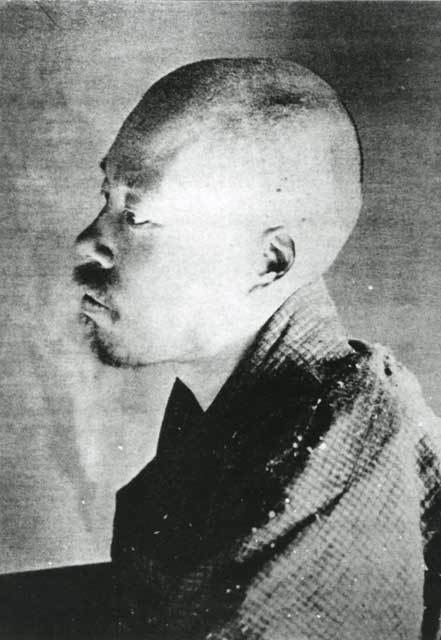 Although we have impression of MASAOKA Shiki as an oldstyle literati who had been ill in bed of tuberculosis for a long time and wrote Haiku or Tanka, he has been known as a person who loved baseball very much. Shiki was fond of baseball which was a brandnew sport at that time, and he was deeply absorbed in playing it since he was a student of Preparatory School of the University of Tokyo. He often chose baseball as a theme of Haiku or Tanka, and also wrote serially on a journal to introduce the rules of baseball. In recognition of his contribution, he was inducted into the baseball hall of fame in 2002. In Ueno Park where Shiki enjoyed baseball, there is a baseball ground named "Memorial Baseball Ground of MASAOKA Shiki" that was entitled when Ueno Park was celebrated the one hundred thirtieth anniversary in 2006.
Opening Information
Open :

All year (Except Mondays, summer and winter holidays)
Times :

10:30~16:00 (Except 12:00~13:00)
Fee :

General ¥500, junior high school and younger students are free
Taito city, Arakawa city Course
(Let's take a stroll around Yanaka-Sendagi!)
Calligraphy Museum
NAKAMURA Fusetsu (1866-1943),an oil painter and a calligrapher in the Meiji and Taisho periods, built this Calligraphy Museum in 1936 beside his house.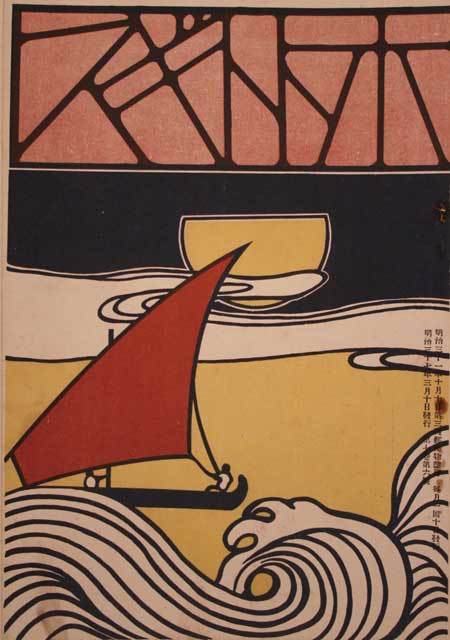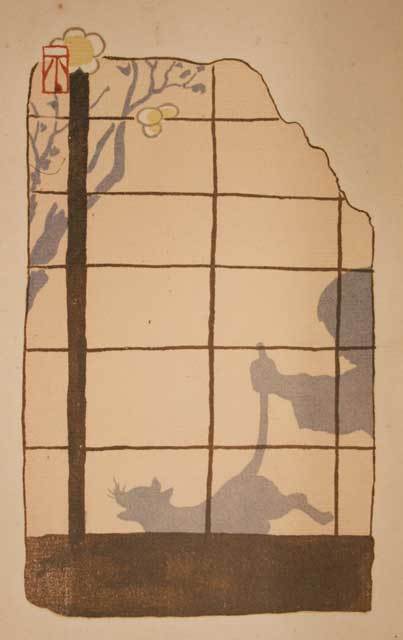 Fusetsu was born in Edo (current Tokyo), grew up in Nagano and returned to Tokyo to study under ASAI Chu and KOYAMA Shotaro. After studying in France, as a leading member of Taiheiyo-ga-kai (Pacific Group of Western-style painting), he confronted KURODA Seiki, a leader of Hakubakai. He had been a member of Imperial Fine Arts Academy and the principal of Taiheiyo Art School, as an influential figure in modern western-style painting. Besides his work in oil painting, he flourished as an illustrator known for works of SHIMAZAKI Toson "Collection of Young Herbs" and NATSUME Soseki "I am a cat". Moreover, he was a renowned calligrapher and a collector of calligraphy.
This Calligraphy Museum has stored 16,000 paintings, calligraphic works or archaeological artifacts related to the Chinese or Japanese calligraphy, including 12 important cultural properties and 5 important arts, collected by Fusetsu himself. The main building with the flavor of the early Showa period, which did not suffer any damage in World War II, is also important as a modern western style building. NAKAMURA Fusetsu Memorial Museum established in 1999 organizes special exhibitions several times every year and exhibit his works and related materials.
Fusetsu's residence in this place was burned down by airraid, but a warehouse in the Taisho period remains, and a storehouse made by stone in the Meiji period was reconstructed and open to the public.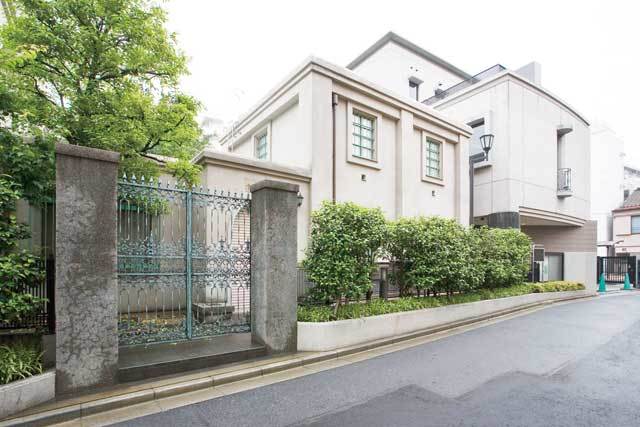 Opening Information
Open :

All year (Except Mondays (if a holiday falls on them, Tuesday), the year's end and beginning, the event of inventory)
Times :

9:30~16:30 (Enter by 16:00)
Fee :

General ¥500, high school and younger students ¥250
Tokyo Cultural Heritage Map
Would you like to go around cultural heritages? In Tokyo, there are various cultural heritages. This map helps you go around cultural heritages with efficiency during limited time in your trip. Japanese traditional temples and shrines, the cultural heritages concerned to most famous events and person in Japan and a lot of nature. This map introduces all of them widely! You must watch them and know the history and the culture of Tokyo!