Chiyoda city Course
Let's take a stroll about the former Edo Castle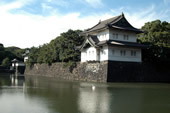 The current Imperial Palace is located on the former site of Edo Castle (Chiyoda Castle) surrounded with a large forest in the center of Tokyo. Edo Castle was developed as the political center of the TOKUGAWA administration as well as the home of the line of TOKUGAWA shoguns. Edo Castle covered a vast area which was encircled by Yotsuya to the west, Asakusa to the east, Suidobashi to the north, and Toranomon to the south.
This autumn, among the sites open to the public in the spacious Edo Castle, the highlights such as Ninomaru and Nishinomaru currently located in the East Gardens of the Imperial Palace and its Outer Gardens and so on, were selected for a walking course during the Tokyo Heritage Week. Let's take a stroll about the former Edo Castle, an oasis in downtown Tokyo.
Walking Course
Edo Castle was originally built by OTA Dokan, an influential vassal, in 1457. After a succession of owners, TOKUGAWA Ieyasu made it his residence mainly because TOYOTOMI Hideyoshi had offered him the former territories of HOJO Clan's of Odawara.
The construction of Edo Castle continued through three generations of TOKUGAWA rulers (Ieyasu, Hidetada and Iemitsu), and a whole of Edo Castle was almost completed in 1636.
Edo Castle was a huge complex built up with various Kuruwa (citadels) such as Main Palace consisting of Honmaru, Ninomaru and San-nomaru, Saijo (West Palace) consisting of Nishinomaru and Momijiyama, and a spacious strolling garden called Fukiage, besides Kitanomaru and Nishinomarushita.
These Kuruwa (citadels) were divided by numerous inner moats, and the inner compound of the castle was encircled by outer moats of the entire perimeter of about 14 kilometers.
In and around the current Imperial Palace, a lot of cultural heritage sites taken over from Edo Castle still remain to this day, such as moats, stone walls, gates and yagura (turrets) which were designated as National Special Historic Site (Edo Castle Remains), and Tayasu-mon Gate, Shimizu-mon Gate and Outer Sakurada-mon Gate were designated as National Important Cultural Properties (Buildings). In addition, as the remains inheriting Edo Castle's historic sites, Remains of Edo Castle Outer Moats and Site of Tokiwabashi-mon Gate located between Ushigome and Akasaka were designated as National Historic Site.
Walking Course Highlights
Ote-mon Gate
Otesan-no-mon Gate
Nakano-mon Gate
Chujaku-mon Gate
Honmaru
Tenshudai (Donjon Base)
Stone Walls around Hakuchobori Moat and Shiomizaka Slope
Ninomaru Garden
Sakurada-niju-yagura
Nijubashi Bridge
Outer Sakurada-mon Gate
Reference
Brochure (PDF)