Sumida city Course
4
Dozo Amida Nyorai Zazo
(Copper statue of seated Amida Buddha) The lotus-shaped pedestal is inscribed with the names of Buddhist sculptor Sakyo Teitaku Harada, Caster Omi Ota, and Senior Provincial Inspector Masatsugu Fujiwara.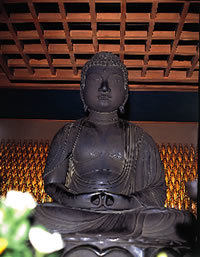 Ekoin is a Jodo (Pure Land) Sect Buddhist temple established to mourn for victims of a great fire of Meireki in 1657. A statue of Amida Nyorai was erected in 1675 along with a memorial tower to honor the fire victims, prisoners, and any souls who did not leave relatives behind. The statue was destroyed by a fire in 1703 and it was recast in 1705. When the main hall was rebuild in 1970, the statue was enshrined as the principal object of worship. Until 1970, the statue had been left outside.The figure of the statue is excellent and the casting technique was superb. The statue was cast in 10 separated parts, but the parts were jointed so elaborately that the jointed sections are unnoticeable. The height of the statue is 282cm. The width between the knees is 165cm, and the height of lotus-shaped pedestal is 80cm.Amida Nyorai is a Buddha who is said to reside in Seihojodo (the western pure land). Those who believe in this Buddha and chant its name are believed to be able to go to the Pure Land (Jodo). The statue was designated as cultural properties because the statue was rather elaborate for copper statues in the mid-Edo period and there are only a few previous cases as such.
Opening times
Date :

Year-round
Time :

9:00-16:30
Charge

Free
Access & Required Time

Ekoin Temple, 2-8-10 Ryogoku, Sumida City
2-min walk from JR Sobu Line Ryogoku Station, 8-min walk from Subway Oedo Line Ryogoku Station
Notes

Please understand that the Amitabha Tathagata statue located in the main hall cannot be viewed during the Buddhist memorial ceremony. The Ryogoku Nigiwai Festival is held for 5 days in early May.
{No smoking, lavatories : provided photography prohibited, foreign language support available}