Taito city,Arakawa city Course
(Let's take a stroll around Yanaka-Sendagi!)
Remains of Five-Story Pagoda of Tenno-ji Temple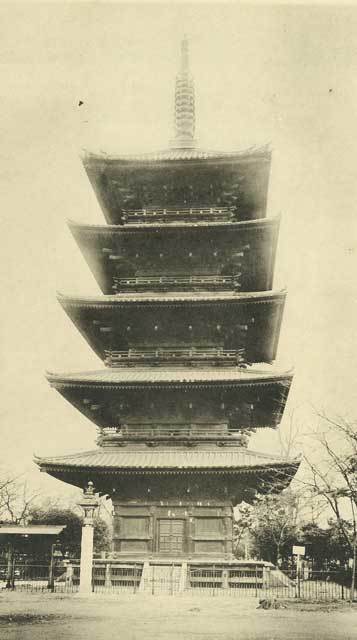 The first Five-Story Pagoda of Yanaka, known as a model of "Five-Story Pagoda" by KODA Rohan, had been in precinct of Gokokuzan Soncho-in Tenno-ji Temple of the Tendai sect (current Yanaka Cemetery). Tenno-ji Temple has long tradition. It was originally called Choyozan Kanno-ji Soncho-in Temple of the Nichiren sect founded by the connection between SEKI Kojiro Nagateru of Mt. Dokan and Nichiren, and later converted into a Tendai sect Temple by the shogunate's order in 1699. It was again renamed Gokoku-zan Tenno-ji Temple in 1833, as is currently called.
The first Five-Story Pagoda was built in 1644, and lost almost 130 years later in 1772 by the Great Fire of Meguro Gyonin-zaka. The pagoda which was rebuilt 19 years after the disaster, served as a landmark of Yanaka for a long time, and it had escaped disasters caused by earthquakes or air-raid of World War II. Unfortunately the pagoda was finally burned down in an arson attack on July 6, 1957.
The pagoda was entirely made of timber of Japanese zelkova materials and 34.18 meters in height, which was the highest among the Buddhist Pagodas in Kanto region at that time. An actual remaining measurement by architect OSHIMA Eishu in 1870 is reminiscent of the past.
All 49 foundation stones for pillars and a 90 square meters central foundation stone are made of granite. A gold-copper glass majestic stupa-shaped reliquary and a gold-copper sutra container were found under the foundation stone in the center, while gold-copper sutra container and others are found under the foundation stones at the four corners of the inner sanctuary and the outer sanctuary.
Opening Information
Open :

All year
Times :

All day
Fee :

Free