Hino city Course
2
Kenpon Chakushoku Benzaiten Jugo Doshi Zo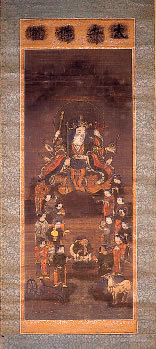 Benzaiten (Japanese name for Hindu Goddess Saraswati), one of the Seven Deities of Good Fortune, honored by the water as Goddess of River, is popularly worshipped. The size of this painting paper is length 92.5cm, width 37.2cm, with painted silk, framed-finish. Estimated to be drawn during Muromachi period, author unknown.
At the slightly higher place from the center of the painting drawn main Goddess Benzaiten, below on the left are the seven servants, on the right below are the eight servants. All are located on the ground describing as rocks etc., lower on the picture expressed waterfront with waves. Mountains painted in ink above Benzaiten as background. In front of the servants are carriages with rice packs on the wagon and white horses. Lower center drawn is considered to be Daikokuten, unlike other 15 children, wears cap and have moustache.
This expression of Daikokuten was seen in old examples but this is rare in that Daikokuten was drawn at Benzaiten as one of fifteen children. Notable as origin of Seven Deities of Good Fortune.
Opening times
Date :

Year-round
Time :

9:00-16:00
Charge

300 yen
Access & Required Time

Kongo-ji Temple733 Takahata, Hino-city
3-min walk from the Keio Line & Tama Intercity Monorail Takahatafudo Station
Notes

Kongo-ji Temple733 Takahata, Hino-city
Please use public transportation during the Chrysanthemum Festival.
{Parking available, lavatories : provided, photography prohibited}