Hachioji city Course
4
Yakuo-in Daishi-do (Daishi hall in Yakuo-in)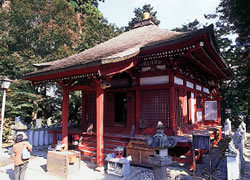 There are no records concerning the construction year, but it is presumed that Daishi-do burned down in a fire of Yakushi-do in 1677 and was reconstructed later. Therefore, Daishi-do must have been build after the middle Edo period, also judging from the style and the techniques of the architecture used. The techniques used for the carving patterns on step canopy, rainbow beam, Kibana (nosing attached to the ends of tie beams) and shrimp-shaped rainbow beam, are older style than the one of the construction period. According to Shinpen-Musashifudokiko (chorography in Musashikoku), Daishi-do, previously called Dainichi-do, was located opposite of Yakushi-do, and faced to the south. It is 3×2 bays surrounded by eaves. Later it was repaired three times and relocated to the current place. Daishi-do shows that there were schools which stick to old and traditional architectural style. Daishi-do is important in architectural history to know the trend of architectural styles of shrines and temples in the middle of modern period, and designated Tangible Cultural Property (Building) of Tokyo. This hall with a 1-bay wide step canopy is 5.48 m wide and 9.12 m deep. Daishi-do contains 1-bay wide Naijin (the inner sanctum) and two altars at the back, Butsudan and Ihaidan (1-bay spacing to the sides and to each other). The roof is pyramid shaped with copper sheeting.
Opening times
Date :

Year-round
Time :

8:00-17:00 (Viewing is from outside of the hall)
Charge

Free
Access & Required Time

2177 Takao-machi, Hachioji-city
From the Keio Line Takaosanguchi Station take the cable car and get off at Takaosan. From there it is 15-min walk to the temple.
Notes

No smoking, lavatories : provided