Hachioji city Course
3
Takaosan Fudo-do (Okuno-in Fudo hall in Yakuo-in)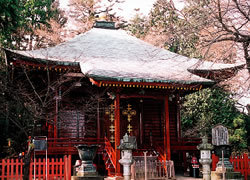 Yakuo-in Yuki-ji in Takaosan, known for Yakushi faith and Izuna faith, has many buildings and halls. Fudo-do is located on a sharp ridge of the mountain at the far back of the temple ground. Fudo-do, previously called Goma-do, which was located near the current main temple building and later relocated to its present place, was reconstructed around 1910. Fudo-do is a small hall with pyramidal roof. The hall is 6.26 m wide and 6.26 m deep. A veranda with railings surrounds it and a 2.17 m wide step-canopy is attached to the east side of the hall. The hall has a elevated timber floor and Tatami mats at front and on both sides. In 2001, the repair was completed and vivid vermilion colour on the pillars, veranda and doors were revived. There are no records mentioning the construction year, however, the hall is presumed to have been built around the end of the 17th century, judging from the style. At the rear of the hall two Raigobashira (pillars right and left of the Buddhist altar) stand behind an altar made during the same period as the hall. Wooden statues of Fudomyoo (Chetaka) and Nidoji (two little bodhisattva), which are believed to have been made before Muromachi period, are enshrined in the altar. These statues are Tangible Cultural Property of Tokyo.
Opening times
Date :

Year-round
Time :

8:00-17:00 (Viewing is from outside of the hall)
Charge

Free
Access & Required Time

2177 Takao-machi, Hachioji-city
From the Keio Line Takaosanguchi Station take the cable car and get off at Takaosan. From there it is 15-min walk to the temple.
Notes

No smoking, lavatories : provided