Hachioji city Course
2
Yakuo-in Izunagongen-do (Izunagongen-hall in Yakuo-in)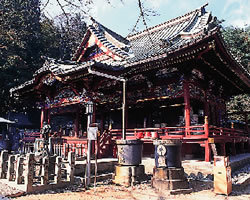 According to Yakuo-in Engi, Yakuo-in started when Gyoki enshrined a Yakushi Nyorai statue by the Emperor's order in 744. It is believed that a priest, Syungen, enshrined Izuna deity (statue) between 1375 and 1379 which led to increased religious influence of Takaosan (or Yakuou-in). The ridge tag shows that Honden was built in 1729 and Haiden and Heiden were constructed in 1753. It is presumed that Honden was an independent building around that time. But when repair was conducted in 1805, the roofs of Honden and Heiden were connected, creating the current Gongen-zukuri (complex roof style). Haiden is a one-story wooden structure. It has a hip-and-gable roof with copper sheeting and is 3-bays wide with eaves around. A veranda surrounds the building and Kumimono (bracket complex) and carvings on the building have brilliant colours. These Kumimono and carvings show high techniques in shrine decoration of the middle of Edo period. This Izunagongen-do was designated Tangible Cultural Property (Building) of Tokyo as it is an excellent Gongen-zukuri architecture built around that time.
Opening times
Date :

Year-round
Time :

8:00-17:00 (Viewing is from outside of the hall)
Charge

Free
Access & Required Time

2177 Takao-machi, Hachioji-city
From the Keio Line Takaosanguchi Station take the cable car and get off at Takaosan. From there it is 15-min walk to the temple.
Notes

No smoking, lavatories : provided