Hachioji city Course
1
Yakuo-in Nio-Mon (Nio-Gate in Yakuo-in)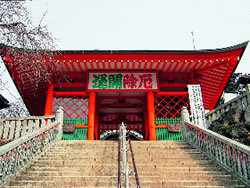 Nio-mon, facing south of Takao-san Yakuo-in Yuki-ji, is a one-story high, 3-bays wide, 8-legged gate with an entrance in the centre. It has a hipped roof and Kokerabuki-styled copper sheeting. The statue of Misshaku Kongorikishi with closed mouth (Buddhist guardian deity) is on the left side the gate and Naraen Kongorikishi with opened mouth (also Buddhist guardian deity) is on the right side. Normally Nio-Mon enshrining these statues as guardian deities are 3-bays wide and have one entrance. The distance between the two centre pillars is 2.43 m while the distance between the pillars for the statues is 1.82 m each. The total width of the gate is 6.07 m. The depth is 2 bays or 3.64 m (1 bay is 1.82m). Bengara (red earth pigment) is applied to the pillars. The hipped roof, used to be made of 3 mm thick Kokerabuki, has now Kokerabuki-style copper sheeting. There are no documents mentioning the construction year of Niou-mon, but it is presumed that it was built between the end of the 17th and the early 18th century. The description on a repair plate found on the statue of Kongourikishi and the used architectural style support this assumption.
Opening times
Date :

Year-round
Time :

All day
Charge

Free
Access & Required Time

2177 Takao-machi, Hachioji-city
From the Keio Line Takaosanguchi Station take the cable car and get off at Takaosan. From there it is 15-min walk to the temple.
Notes

No smoking, lavatories : provided