Fuchu city & Kokubunji city Course
5
Dozo Kanzeon Bosatsu Ryu-zo


(Bronze Standing Statue of

Kanzeon Bosatsu

)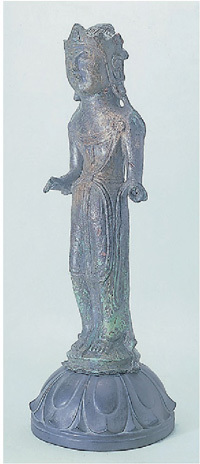 This statue was excavated from the remain of Tosan-do Musashi-michi Road, which ran north to south between the monastery and the nunnery, in the research for verifying the precinct of Musashi Kokubun-niji Temple in 1982.
The statue has a height of 28.4 cm, wearing a three-sided low crown decorated with the small statues of Amida Nyorai and showing a smile on its lips. The characteristics of its body are the broad shoulders and the lower belly sticking out. The major part of the pedestal was lost.
It is estimated to be made in the late Hakuho Age (from the late 7th century AD to the early 8th century AD), because such style is similar to the statue of Yumedono Kannon owned by Horyu-ji Temple in Nara.
This bronze statue is a precious cultural property, because it belongs to the old period as a bronze statue in the Hakuho Age known in the Kanto region, and there is a high possibility that the Japanese copper were used to make it as a raw material, according to the copper component analysis. It may suffer from a fire after buried, because of the traces of burning. Also, it lost the pedestal, the left arm from elbow, the right fingers and a part of robe.
Musashi Kokubunji

Temple Remains Museum
Address:

1-13-10, Nishimotomachi, Kokubunji-shi, Tokyo 185-0023
TEL :

042-323-4103
FAX :

042-300-0091
Opening Times:

9:00-17:00 (Enter by 16:45)
Closed Days :

Monday (if a holiday falls on them, Tuesdays), The year's end and beginning, Temporary closing days
Fee :

100yen (free for under junior high school students)

You can buy a ticket at Rest Station of Historic Ruins.
No parking
There's a cafe ("Ota-cafe") at Rest Station of Historic Ruins.