Fuchu city & Kokubunji city Course
4
Karakusa Shiju-mon Do-buta


(Bronze Lid with Arabesque and Four Devine Beasts Design)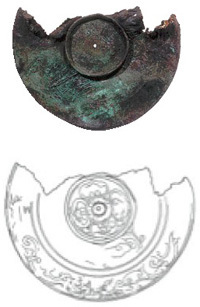 This bronze lid was excavated from the pit dwelling around Musashi Kokubunji Temple, which suggests to have been a blacksmith's workshop. This pit dwelling seems to have been burned down; the bronze lid is generally bent and partly melted by heat too.
In processing of the preservation, a pattern by line engraving was revealed on the exterior surface of the lid. The bead pattern and four-petals pattern were carved inside the crown, and the arabesque design, beast design and stippling were done outside of the crown. This lid is supposed to be for a bronze bowl or a nest of bowls.
This design is in common with that of Sahari-no-futa No.2 owned by Shoso-in Treasure Repository, and it is indicated that the lid may have been made in the Korean peninsula. However, it is unclear how it was brought here.
Musashi Kokubunji

Temple Remains Museum
Address:

1-13-10, Nishimotomachi, Kokubunji-shi, Tokyo 185-0023
TEL :

042-323-4103
FAX :

042-300-0091
Opening Times:

9:00-17:00 (Enter by 16:45)
Closed Days :

Monday (if a holiday falls on them, Tuesdays), The year's end and beginning, Temporary closing days
Fee :

100yen (free for under junior high school students)

You can buy a ticket at Rest Station of Historic Ruins.
No parking
There's a cafe ("Ota-cafe") at Rest Station of Historic Ruins.