Fuchu city & Kokubunji city Course
2
Masugata no Ike Yusui-gun


(

Masugata no Ike Yusui-gun

Springs)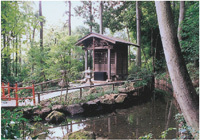 There are many points where springs flows under Kokubunji Terrace. "Masugata no Ike Pond" and "Masugata no Ike Yusui-gun Springs" belongs to them. Many zelkova trees and Japanese cedars are found around there. The view of copse in Kokubunji Terrace is well preserved from the past. The pond was used as drinking water in the past.
The name "Masugata no Ike" is derived from one legend handed down to this area. In 848, there was a lady named "Tamatsukuri Komachi", who suffered from a skin disease. She visited Kokubunji Temple to pray for her cure from the disease. On the 21st day after she started to pray, a child appeared, took her to the pond and left a message to purify her body in it. When following his message, she was cured and got her original beauty back. People started to call the pond "Masugata no Ike", after the pond reflected her "Masugata (original figure)".
At present, there is a small shrine that enshrines Benzai-ten around the pond. A lot of Ema (votive horse tablet) that snakes are painted are offered in the shrine, and some visit to pray for their cure from disease or easy delivery of baby. The principle image of the shrine is unveiled once in twelve years, and it was done in 2013.
The surroundings of Masugata no Ike Pond are environed by well-kept copse, and the beautiful landscapes are well preserved, though in the urban area. They are selected as "100 Exquisite and Well-Conserved Waters" by Ministry of the Environment and "57 Exquisite spring waters in Tokyo" by Tokyo Metropolitan Government.
Opening Information of the Masugata no Ike Yusuigun
Opening Days:

All year
Opening Times:

All day
Fee:

Free
(Pay)