Fuchu city & Kokubunji city Course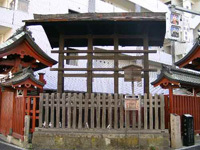 Fuchu Kosatsuba is located at the corner of the crossing with the former Koshukaido Road and Fuchukaido Road, where the center of the post town in Fuchu was once there. Kosatsuba is a place to put up a notice board on which notifications and bans from the Edo shogunate were written by carbon ink. Kosatsuba was built in the center of villages or post town on the roads, carried out its important roles for demonstrating dignity of the shogunate.
Since Fuchu Kosatsuba was located with heavy traffic in the post town, the large number of Kosatsu were put up here. A document record is remaining putting up ten of Kosatsu in 1838. Their contents were about the daily life, that is, to live peacefully with family, or about the bans form the shogunate, that is, on belief in Christianity or on use of guns and so on.
Previously it had been built facing the road. After the traffic accident in 1965, it was rebuilt diagonally to the crossing. Nowdays there are only a few remaining, therefore Fuchu Kosatsuba is very much valuable.
Opening Information of the Fuchu Kosatsuba
Opening Days:

All year
Opening Times:

All day
Fee:

Free