Fuchu city & Kokubunji city Course
4
Babadaimon no Keyaki Namiki


(two rows of Zelkova trees along the avenue)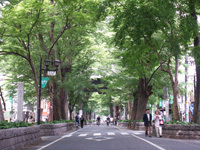 These zelkova trees are planted along the avenue leading to north from Okunitama Jinja Shrine for over 600 meters. They are the second history natural monument which was designated in 1924. At the time of its designation, more than 60 of huge zelkova trees were planted regularly with Inushide (Carpinus tschonoskii), Konara (Quercus serrata), and Japanese cedars, giving magnificent landscape.
These trees were said to have begun contributing 2 blocks of riding grounds and trees to Okunitama Jinja Shrine by Ieyasu, the first Tokugawa shogun. By the end of the Edo period, horse markets had been held here.
Walking along the avenue forward north from the shrine, you can see the statue of Minamoto-no Yoshiie at the right side of the sidewalk. This statue was built in 1992, who is said to be the first man of planting the trees here for the gratitude of his victory in Zenkunen-no-eki Fight in the Heian period.
Walking along further north, you reach to the Fuchu railway station of Keio Line. Although during the Edo period, around Keyaki Namiki there were less people than the area of Koshukaido Road which had posting station. But after the Meiji period, this avenue has become town central of Koshukaido Road and railway. Therefore this avenue has become difficult to maintain Keyaki Namiki according to over traffic, city town, and old tree plants. Local citizens have been taking care of conservation and environment service for nearly over 60 years.
Opening Information of the Babadaimon no Keyaki Namiki
Opening Days:

All year
Opening Times:

All day
Fee:

Free