Fuchu city & Kokubunji city Course
3
Musashi Kokufu Ato


(Remains of

Musashi

Provincial center)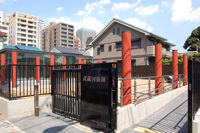 The site of Kokufu (Provincial center) is located on the center of the Kokuga (Provincial Government Office). Portion of the building was restored on the site to be shown to the opened to the public.
Since there are only few documents about the ancient provincial center, archaeological technique is indispensable for the investigation. Fuchu City has continuously excavated investigation around an urban area since 1975. One of the archaeological study, Provincial Government Office had been identified.
In the area of 300m long north and south, 200m long east and west, was surrounded by huge ditches for partitioning, some characteristic ruins and artifacts were excavated such as the remains of large scale buildings in a straight line and a lot of roof tiles.
Also the landscape of the whole Provincial center has been described by the archaeological research. Near the Provincial center, where 2.2km east and west, 1.8km north and south, clustered dug-standing pillar buildings were excavated. The remains of ancient road running north-south straight and buildings along the road show the existence of city planning in the Nara period.
In addition, a lot if ruins were also founded such as Kokushi (Provincial Governor)'s building who was appointed from Nara, a ruin presumed as ancient Governmental Office, and dwelling sites with well or blacksmiths' workshop.
Also stationaries such as tin or knife used for scraping wooden Tablet which used at government office, potteries and life facilities such as ironware and potteries weitten by name of facilities and personal names have been excavated. So life style of the people who used to live there could be found.
Opening Information of the Musashi Kokufu Ato
Opening Days:

All year(Except on the year's end and beginning)
Opening Times:

9:00~17:00
Fee:

Free