Fuchu city Course
4
Musashi Fuchu Kumanojinja Kofun (Musashifuchu-Kumanojinja Shrine Tomb)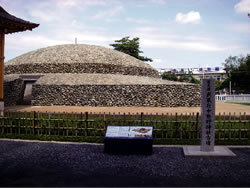 The tomb mound consists of two lower stages in square shape in plan view and of a single upper stage in circular shape; thus the type is called jo-en kahofun (tomb mound with circular mound on upper stage and rectangular mound on lower stage). As per size, the lowest mound is ca. 32 m on side, the second mound ca. 23 m on side and the uppermost mound has a diameter of ca. 16 m. The structure for funeral is so-called stone chamber with a horizontal hole, which was built by lining cut stones. The total length is ca. 8.8 m, and the structure consists of 3 chambers.
Almost no relics were excavated due to grave robbing and others, but a metal tip attached to a sword casing was excavated. The metal tip is decorated with silver Damascening.
The construction of the tomb mound supposedly dates back to the middle to the latter half of the 7th century, on the ground of the shape of the stone chamber and characteristics of the metal tip.
There are four tomb mounds with circular mound on upper stage and rectangular mound on lower stage which are identified in investigations. And it is said that the mound is likely to be the biggest and oldest one among the four mounds. Moreover, since the tomb mound is one of the largest ones in Musashi area of this period and it has a large-sized stone chamber, it is likely that the buried person was one of the most powerful chieftain in Musashi. Another interesting subject will be a link to Musashi Kokufu (Provincial Office of Musashi Province) and Tosando Musashimichi (Musashimichi branch of the Tosando main road), which were constructed immediately later.
Opening times
Date :

Year-round
Time :

All day
Charge

Free
Access & Required Time

2-9 Nishifucho, Fuchu-city
8-min walk from the JR Nanbu Line Nishifucho Station, 25-min walk from the Keio Line/JR Nanbu Line Bubaigawara Station
Notes

The historic site is in a residential neighborhood, so please be considerate of the neighbors, such as not talking loudly.{No smoking}