Fuchu city Course
2
Musashi Kokufu Ato (Remains of Provincial Office of Musashi)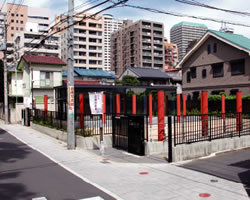 The provincial office of Musashi is referred to in Wamyo Ruiju Sho (Japanese dictionary of Chinese characters) as being "in Tama District", but a further detailed location had not been identified. However, excavations since 1975 clarified that an area for the former kokuga, facilities of the provincial office lies in an area ca. 300 m from north to south and ca. 200 m from east to west; the area is located between two grooves from east to west in parallel to the former Koshu Kaido, as well as between two grooves from north to south identified in the precincts of the Okunitamajinja shrine.
Remains of large buildings and roof tiles and bricks were excavated in abundance. Especially, roof tiles with names of 19 of the total 21 districts within the province being stamped were found. It is likely that all the energy from Musashi Province was dedicated to construction projects of kokuga and kokucho (provincial governor's office). We can assume based on excavated clay vessels and others, that kokuga existed from the first half of the 8th to the second half of the 10th century. This is in line with remains of provincial offices of other provinces.
Moreover, ditches identified in an area for kokuga allows for assumption that the area was a square plot 100 m on side in both directions. Some scholars suggest the possibility that 2 sites of large buildings were the sites of shoden of kokucho, central buildings of kokuga.
The precincts of Okunitamajinja shrine being a western portion of kokuga and the alleged sites of central buildings of kokuga are covered by the designation, while the section corresponding to the large buildings were repaired and disclosed by Fuchu City.
Opening times
Date :

Year-round (Closed : the end and the beginning of the year)
Time :

9:00-17:00
Charge

Free
Access & Required Time

2-5 Miyamachi, Fuchu-city
7-min walk from the Keio Line Fuchu Station, 7-min walk from JR Musashino Line/Nanbu Line Fuchuhonmachi Station
Notes

The historic site is in a residential neighborhood, so please be considerate of the neighbors, such as not talking loudly. No smoking.