Chuo city Course
11
Takashimaya Tokyo Store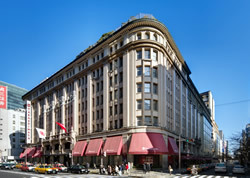 "Takashimaya", a secondhand clothing and cotton cloth retailer founded in Kyoto in 1831, opened its Tokyo Store at Nihonbashi in 1933. It was located in the "Nihon Seimei Building" erected by Nippon Life Insurance Co., which rented the building to Takashimaya.
A proposal by Takahashi Teitaro, who had already designed the Gakushi Kaikan Building and the Residence of Marquis Maeda in Komaba, was adopted for the building's architectural design. Takahashi incorporated copious elements of Japanese architecture within western historical styles, under his concept of "contemporary architecture based on a keynote of oriental tastes". Later, extensions designed by Murano Togo using the techniques of modern architecture were added over a period of around 30 years, while preserving Takahashi's original ideas. This led to the building's appearance today as a splendid fusion of Takahashi's and Murano's designs.
Takashimaya was the first department store in Japan to be fully fitted with air-conditioning equipment; the advertising copy used in those early days - "It's hot in Tokyo when you step out of Takashima" - took Japanese society by storm. The elevators, operated manually by store guides, are still used today, albeit with much modernized machinery and repaired cages. These are now one of the faces by which the Takashimaya Tokyo Store is best known.
For four years from 1950, Takako the Elephant was reared on the roof of the store, giving it notoriety as "the department store with the elephant". Takako was apparently lifted up by a crane. She was later donated to Ueno Zoo, but a penthouse on the motif of a baby elephant still remains on the rooftop today.