Chuo city Course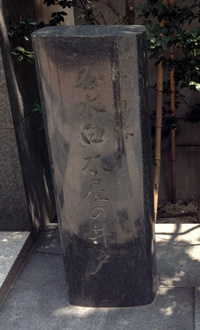 To the south of Nihonbashi Bridge stood the Shirokiya store. Founded by the Omi merchant Omura Hikotaro, this was a major clothing retailer to rival Echigoya on the north side. In 1711, Hikotaro's son (also called Hikotaro) dug a well inside the store to solve water problems in the Nihonbashi area. While this difficult work was underway, legend has it that a statue of Kannon (the Buddhist Goddess of Mercy) was discovered, whereupon streams of spring water started to gush out. And from that time on, the well was known as the "Shiroki Spring", not only amongst local residents but also more widely. The Matsudaira of Echizen are said to have drawn water from the well every morning until the Meiji Restoration, because the Clan Head had been cured by it.
In 1932, Japan's first fire in a multistory building broke out at Shirokiya. Ropes were let out of the upper floor windows to help people escape, but women in kimonos fell to their deaths when they let go of the ropes to hold their hems down. This is said to have started a trend towards western-style women's underwear, but the story is probably a later embellishment.
When Shirokiya's successor, the Nihonbashi Branch of Tokyu Department Store, closed its doors in 1999, the Shiroki Spring disappeared. The Kannon statue was enshrined at Sensoji Temple in Asakusa, and the stone monument to the "Shirokiya Spring Well" was moved to its current location next to the plaza in front of COREDO Nihonbashi Annex.