Chuo city Course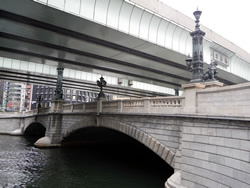 The first wooden bridge was built here in 1603, and in the following year, Nihonbashi became the starting point of the five major highways. To the east, the bustling Uogashi fish market lined the banks of the Nihonbashi River as far as the next bridge, Edobashi. Areas to the north and south of the bridge were occupied by merchants' stores including Shirokiya and Echigoya, making this the busiest place in all of Edo. Fires were common in Edo, breaking out ten times here in recorded accounts alone. In all, the bridge had a length of 28 spans measuring about 51m in total, and a width of 4 spans measuring about 8m. The Edo-Tokyo Museum has a full-scale replica of the northern 14 spans, based on records from the Late Edo period. This half of the reconstructed bridge can actually be crossed there.
The Nihonbashi Bridge was rebuilt in stone in the Meiji era. The present version, 49m long and 28m wide with two stone arches, was completed in 1911. A 'point zero' marker, indicating the starting point for distances on Japan's road network, is embedded in the middle of the bridge, with a replica displayed at the northwest end. Seven national highways start from Nihonbashi - Routes 1 (the Tokaido), 4 (Nikko Kaido), 6 (Mito Kaido), 14 (Chiba Kaido), 15 (Dai-Ichi Keihin), 17 (Nakasendo) and 20 (Koshu Kaido).
Plaques commemorating the construction work can be found at the northeastern and southeastern bridge ends. The plaques are positioned on the river-facing sides of the bridge piers, and can only be seen by leaning over the bridge. Please take great care when doing so.