Chuo city Course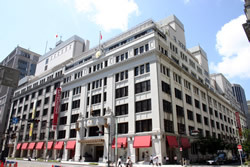 Like the Mitsui Main Building, Mitsukoshi has its origins in the Echigoya store; it inherited the latter's clothing business, only later evolving into a department store. The name 'Mitsukoshi' (

) is taken from the first characters of the Mitsui zaibatsu (

) and Echigoya (

).
While Mitsukoshi was still a clothing business, the Main Store was completed in 1914 as a steel-reinforced concrete building in Renaissance style. At the time, it was lauded as "the largest building east of the Suez Canal" . Though partly burnt by fires following the Great Kanto Earthquake, it was later refurbished and extended, reaching its current form in 1935.
A pair of bronze lions guard either side of the main entrance. Modeled on the lions in London's Trafalgar Square, they were cast in Britain over a period of three years. These lions have now become a kind of "wish-fulfillment symbol" ; legend has it that if anyone succeeds in riding one without being seen, their wishes will come true. This makes the lions particularly popular with students preparing for exams. The "wish-fulfillment" legend is central to the narrative of Shishi to Chikatetsu (The Lions and the Underground), a short story in Sagi to Yuki (Herons and Snow) by Kitamura Kaoru, which won the Naoki Prize.
Signs of art deco style can be found here and there inside the building, while a gorgeously ornate statue of an angel representing 'sincerity' towers over the multi-level Central Hall. The statue is now a symbol of the Mitsukoshi Main Store. The pipe organ on the 2nd floor balcony over the Central Hall has been designated as a Tangible Cultural Property of Chuo City, as the only surviving theater organ from the early Showa era that is still playable. The marble used for the interiors contains a number of fossils. In particular, the figure of an ammonite can be clearly seen in the wall on the stairway leading from the Central Hall to the 2nd floor. The building boasted the first escalator in Japan, as well as some of the latest facilities of the day, including elevators, sprinklers, and full heating and ventilation throughout.