Chuo city Course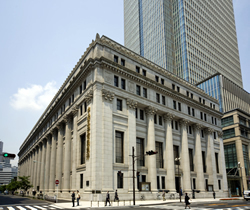 The Mitsui Main Building is located on a site where Mitsui Takatoshi, who laid the foundations of the Mitsui zaibatsu in the Edo period, had a clothing store called 'Echigoya'. The old building was rebuilt following damage caused by the Great Kanto Earthquake, and the reconstruction was completed in 1929.
The design was overseen by Trowbridge & Livingston of New York and the construction by James Stewart & Co., using the very latest American design and technology of the day. For its architectural style, the building adopted a Neo-classical Greek revivalist theme, as commonly seen in public edifices of 19th century America. It is surrounded on three sides by rows of magnificent Corinthian columns. Taking a lesson from the Great Kanto Earthquake, the structure of the building was designed to withstand earthquakes of twice its magnitude. The door of the main vault is 2.5m in diameter with a maximum thickness of 0.55m, and weighs 50 tons. According to a surviving anecdote, when it was being transported to the site, its sheer weight meant that it was not permitted to be carried over Nihonbashi Bridge. Instead, it had to be taken by ship to the foot of the Shin-Tokiwa Bridge and then hauled up onto land from there. The Main Building was once occupied by the Head Offices of Mitsui Gomei Kaisha, Mitsui Bank (now the Sumitomo Mitsui Bank), Mitsui Trust & Banking (now the Chuo Mitsui Trust and Banking Co.), Mitsui & Co., and Mitsui Mining (now Nippon Coke & Engineering Co., Ltd.), among others. As such, it functioned as a veritable center of operations for the Mitsui zaibatsu. After the war, part of the building was requisitioned by GHQ (the General Headquarters of the Supreme Commander for the Allies Powers).
Today, the Main Building is home to the Mitsui Memorial Museum, housing approximately 4,000 precious works of art collected by the Mitsui family since the Edo period.