Chuo city Course
5
Bank of Japan Head Office Building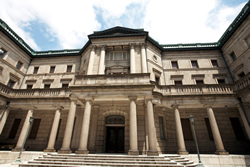 The Bank of Japan started business near the approach to Eitai Bridge in 1882, but only one year later decided to relocate owing to lack of space and the distance from the city center. So it was that, in 1896, the Main Building of the Bank of Japan Head Office was completed at its current site, the location of the gold mint in the Edo period.
The building was designed by Tatsuno Kingo, a master of modern architecture who had also created the redbrick building of Tokyo Station. As part of the design process, he spent 14 months visiting banks in western countries. He is said to have modeled his eventual design on the National Bank of Belgium, the most advanced example at the time.
The Main Building has three stories above ground and one below. Although features such as the central dome and entrance pillars are in Neo-baroque style, the building also incorporates Renaissance characteristics in its high symmetry, walls and other design features. It also boasts some advanced facilities that were rare in Japan at the time, including flush toilets, elevators and fireproof shutters. The initial plan was that the building be made completely of stone, but that changed following the Mino-Owari Earthquake in southern Gifu Prefecture in the year after the work started. Now, it is a brick-masonry building with a double wall structure, in which bricks are laid inside and outside the stone walls to make the building more resistant to earthquakes. As a result, when the Great Kanto Earthquake struck in 1923, the actual structure of the building itself remained intact, although the central dome and the majority of the interior were burnt by fires resulting from the earthquake. Moreover, no major damage was suffered when hand grenades were thrown in the attempted coup d' état of May 15, 1932, or in the Tokyo air raids in 1945. As a result, the building remains more or less in its original condition today.
From above, the Bank of Japan Head Office Building is shaped like the Japanese character for "yen". This is probably just a coincidence, however, as an older form of the character was in use when the bank was originally built.