Chuo city Course
4
Ruins of the Tokiwabashi Gate (National Historic Site)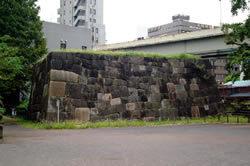 The Tokiwabashi Gate, a point of entry in the outer wall of Edo Castle, was built by a Tohoku daimyo in 1629. It was one of the masugata mon (gates backed by a box-shaped enclosure surrounded by stone walls) that were used to defend the castle. The gate had various names in former times, including "Otteguchi" (because it was the main gate over the outer moat) and "Asakusaguchi" (because it led to Asakusa). The present name, Tokiwabashi, is said to have been provided by the 3rd shogun Iemitsu. There are various theories behind this name. One is that it comes from a poem in Volume 1 of the Kinyo Waka Shu (Collection of Golden Leaves, a 12th century anthology): "Iro kahenu matsu ni yosohete Azumaji no Tokiwa no hashi ni kakaru fujinami" (Wisteria flowers swinging over the Tokiwa (immortal) bridge to the road to the east as evergreen pine.). Another suggests that "Tokiwa" (evergreen) celebrates the evergreen pine or matsu element in "Matsudaira" , former surname of the Tokugawa family.
The Tokiwabashi Gate led to the Oshu Kaido, one of the major highways leading out of the capital. As such, it counted as one of the pivotal "five entrances to Edo" connecting Edo Castle with major highways; the others were the Tayasu Gate (leading to the Joshu Kaido), the Kandabashi Gate (the road to Shibazaki), the Hanzo Gate (the Koshu Kaido) and the Outer Sakurada Gate (the road to Odawara and the old Tokaido). These were important gates used by the shogun' s family as well as the Mito Tokugawa family.
The gate itself fell into disuse in 1873, after which the stone walls were partly demolished. However, as this was the best preserved of the castle's outer wall gates, it was designated as a Historic Site in 1928. In 1877, meanwhile, the wooden bridge had been replaced by a western-style stone structure with two arches (earning it the moniker 'Meganebashi' or Glasses Bridge). This is the oldest surviving stone bridge in Tokyo. The name 'Tokiwa' can be written with two variant characters,

and

. The former is said to have been chosen because the latter includes the element

('dish'), which is considered unlucky because it is breakable.