Chuo city Course
3
Ikkoku Bridge Stone Marker for Lost Children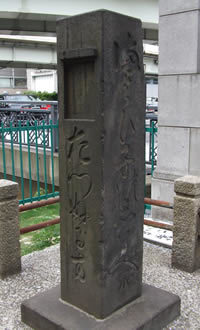 The area around Nihonbashi and Ikkoku Bridge was an amusement quarter in the Edo period, and children as well as adults often seem to have gotten lost there. In those days, each neighborhood was responsible for finding lost children, and in 1857, local headmen and others constructed a stone marker for lost children on Ikkoku Bridge.
The words Mayoigo no shirube (Signpost for Lost Children) are engraved on the front, with Tazunuru kata (Persons Missing) on the left side and Shirasuru kata (Persons Giving Notice) on the right. A square recess can be found at the top of each side. In the recess on the left, people would post notices describing the missing child or adult. People with information on missing persons would post notices to that effect in the recess on the right. It was a kind of public notice board for the people of Edo. Similar stone posts existed at other well-frequented places such as Yushima Tenjin Shrine (original still exists) , Sensoji Temple (restored) and Ryogoku Bridge.
To the north of Ikkoku Bridge was the residence of Goto Shozaburo, controller of the Kinza gold mint, while that of Goto Nuinosuke, headman of Gofukumachi, lay to the south. The name Ikkoku is said to have been a play on the word goto, which meant "five to" (a measure of volume), two of which equaled ikkoku or "one koku" (a bout 278 litersor 150kg).