Chuo city Course
2
Site of the North Magistrate's Office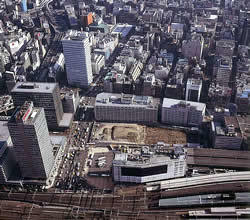 Local magistrates in Edo had broad-ranging powers, including administration, justice and policing. One magistrate was appointed to the north of the city and one to the south, their offices moving several times.
The office of the North Magistrate was located inside the Gofukubashi Gate from 1806 to the end of the Edo period (1867). This is near what is now the Nihonbashi Exit of Tokyo Station, southwest of the Gofukubashi crossing. A chamfered stone with smoothed edges was discovered when a gully in the northeast of the premises was being excavated. It is said to have had the magical significance of protecting the 'unlucky' ushitora (northeastern) gate of the residence. A reconstructed stone gully and explanation board can be found by the sidewalk on the east side of Marunouchi Trust City.
Toyama Saemon no Jo Kagemoto, the real-life model for the character 'Toyama no Kin-san' portrayed variously by Takahashi Hideki and Matsukata Hiroshi, was the North Magistrate towards the end of the Edo period. His opposition to the Tenpo Reforms led to his dismissal after only three years. While in the post he had defended the townspeople and their amusements, and this was remembered in a popular trend for plays about "Kin-san". He was later recalled as South Magistrate, a post in which he served for seven years. It was very unusual for anyone to hold both of these posts in their lifetime. The site of the South Magistrate's Office is on the southeast side of Yurakucho Station today.