Chuo city Course
1
Tokyo Station Marunouchi Main Building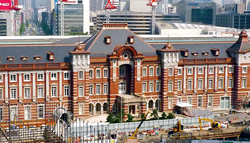 Tokyo Station Marunouchi Main Building is a central facility for passenger transport at the heart of Japan's railway network. Built in line with plans drawn up in the Meiji period, this valuable building stands as a symbol of the capital Tokyo. It is one the largest buildings made primarily of brick.
An elevated line running between the stations at Shimbashi (terminus for the Tokaido region) and Ueno (terminus for Tohoku) was planned in 1889, and Tokyo Station was opened in December 1914. At first, only the buildings on the Marunouchi side facing the Imperial Palace were built; the Yaesu exit on the east side was not opened until 1929.
This Marunouchi Main Building was designed by Tatsuno Kingo. It is a massive structure boasting a total length of 335m, including bends in its north-south axis. Elongated wings extend to north and south from a central block, with octagonal domed concourses arranged symmetrically in each of the north and south wings. At first, it was a three-story building with an aggregate floorspace of 10,500 m² - more than twice the size of Tokyo Dome.
The building was damaged in wartime air raids, and underwent emergency postwar reconstruction. The scale of the building was reduced in the process; among other changes, the third floor section was removed and the north and south domes were demolished.
A movement to conserve the redbrick station building started in reaction to redevelopment plans following the privatization and division of Japan National Railways in 1987. This led to its designation as National Important Cultural Property in 2003. The restoration work started in 2007, the aim being to return the buildings (particularly the exteriors) to their state when first built. This included restoring the third floor section and the north and south domes that had been removed in the postwar reconstruction. The natural slates on the roof were sent for repair and storage to the original production site in Ishinomaki, Miyagi Prefecture, where they were damaged by salt due to the 2011 tsunami. As a result, only 45,000 of the 65,000 slates were usable, the rest being purchased from Spain.