Bunkyo city Course
4
Former Iwasaki Family House Western-style house Billiards hall Main hall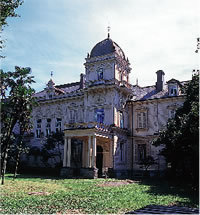 The founder of the Mitsubishi Group, Yataro Iwasaki (1834-85), purchased the estate of about 46,200 m2 and mansion from former Maidzuru Clan governor, the Makino Family. He moved from Yushima Umezono-cho to this place in 1882. Yataro's son, Hisaya Iwasaki (1865-1955), constructed his private residence here after his father's death. The residence was mainly composed of western-style houses and Japanese-style houses. The existing western-style house and billiards house were designed by Josiah Conder (1852-1920) and completed in 1896. The western-style house is a two-story wooden building with a basement and slate-shingle roof. It is based on Jacobean style - a style seen in England at the beginning of the 17th century. The front of this building has a unique design: heights of eaves and windows on both sides of the tower on the gate are not the same, and those windows are decorated in a variety of ways. On the contrary, the back of the building facing the lawn garden has a simple design with two verandas. The billiards house adjoining the western-style house is a one-story wooden building with a basement and slate-shingle roof. It is also a unique western-style structure and looks like a cottage. The main hall is in a Japanese-style house connected to the back of the western-style house. It has a hipped pantile roof. The Japanese-style house remaining today is only a part of large mansion of the old days. The structures and gardens are very important historic sites that excite our imagination over the old lives of zaibatsu (Japanese industrial conglomerate) family.
Opening times
Date :

Year-round (Closed : From December 29 through January 1)
Time :

9:00-17:00 (Admission closes at 16:30)
Charge

General admission 400 yen, 65 yrs and older 200 yen
Access & Required Time

1-3-45 Ikenohata, Taito- City
3-min walk from Subway Chiyoda Line Yushima Station, 10-min walk from Subway Ginza Line Uenohirokoji Station, 10-min walk from Subway Oedo Line Ueno-okachimachi Station, 15-min walk from JR Okachimachi Station
Notes

No smoking, lavatories : provided, foreign language pamphlets, photography and eating are prohibited inside the house.