Bunkyo city Course
3
Yushimatenmangu-Omote-Torii
(Shrine-gate in Yushimatenmangu)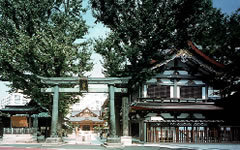 This Torii made of copper casting has "Daiwa-Torii"style. It has curved Kasagi (the top lintel) and Shimaki on top of Daiwa (plates between Shimaki and pillars), are placed on the two inward leaning pillars. There are two Japanese plum shaped crests on the Shimaki (secondary lintel directly attached to the underside of the top lintel) and a Tenmangu sculpture at front. The inscription of the copperplate provided to be constructed in September 1667, on the bottom of the right pillar. On the left pillar, names of donators (1667 and 1668) are written. According to Gofunaibikou (topography), the Tenmangu sculpture was made in 1673. Because there are some year's differences between the copperplate and Gofunaibikou, it is assumed that this Torii was made between 1661 and 1673. written on the pillars and the copperplate indicates that the gate has been often repaired.
Opening times
Date :

Year-round
Time :

All day
Charge

Free
Access & Required Time

3-30-1 Yushima Bunkyo- City
5-min walk from Subway Chiyoda Line Yushima Station (Exit No.3)
The Chrysanthemum Festival is held during the fall.
Notes

Parking available, no smoking, lavatories : provided