Bunkyo city Course
2
Yushima Seido
(the Mausoleum of Confucius at Yushima)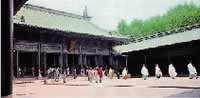 The origin was a private school established in 1630 in Shinobugaoka, Ueno by Hayashi Razan, Confucian scholar for Tokugawa shogunate. Tokugawa Yoshinao, the founder of Owari Tokugawa clan, supported the school and donated in 1632 senseiden (Worship Hall of Ancient Sages) in memory of Confucius and four great figures of the ancient Confucianism, i.e. Yan Yuan, Zengzi, Zisi and Mencius, with their statues being settled.
In 1690, the fifth shogun Tokugawa Tsunayoshi transferred the worship hall to Yushima, and renamed it Taiseiden. From then, people began to use a collective name seido (temple) for this Taiseiden together with attached buildings.
In 1797, Shoheizaka Gakumonjo, an institute under direct control of the shogunate was inaugurated. At that time, the name seido became a concept used exclusively for the Confucian temple (Taiseiden) of the complex collectively called seido till then.
Taiseiden, a splendid temple overall painted in black and built in Chinese style was renewed in 1799. However, the temple was burnt down due to the Great Kanto Earthquake of 1923, the year following designation as historic site by the government. Later, it was rebuilt in reinforced concrete in 1935, and has survived disasters during the World War II.
Opening times
Date :

Year-round (Taiseiden Temple is open Saturday, Sunday, and holidays)
Time :

10:00-16:00 (Until 17:00 Apr-Oct. Taiseiden opens at 10:00)
Charge

Admission to the compounds is free. Admission to the Taiseiden Temple is adults 200 yen, junior high and high school students 100 yen, elementary school students and younger free
Access & Required Time

1-4-25 Yushima, Bunkyo-City
3-min walk from the JR Ochanomizu Station, Subway Chiyoda Line Shin-ochanomizu Station, and Subway Marunouchi Line Ochanomizu Station. There is no parking.
Notes

No smoking, lavatories : provided